Inspiration leads to education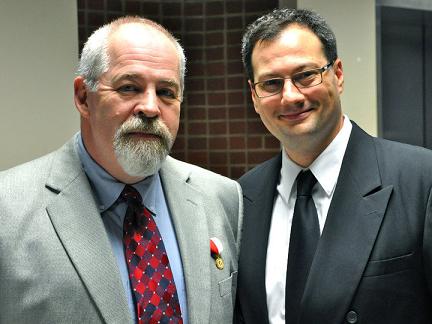 Dr. Kenny Rowlette, Liberty University Professor and Director of the
National Civil War Chaplains Museum and me (Photo by Kathleen Warren)
As I reflect on last week's screening at Liberty University and prepare for Saturday's showing at the University of Mary Washington, I am pleasantly surprised that education is becoming a popular aspect of our documentary. In addition to the theaters and libraries, we are getting more and more requests from museums and colleges to present our film. We then compliment the evening with individual speeches or panel discussions.
The topic of "teaching history" is routine, while the participants and discussions are not. The overall theme encourages our audience to recognize how important it is to preserve and present history to our young people. After all, they are the historians and storytellers of tomorrow. We also discuss what we can do in today's modern-age to encourage an interest in our past.
What makes our presentations so unique and well-received? I believe it is the variety of ages and stages that we include on our panel. This of course is a direct reflection of our film's cast and crew. We are a very diverse group and equally passionate about our own respective parts in this project. From home-schooled kids and grad students, to retirees and techies, we cover all bases of amateurs and professionals. Our historians (me included) cover a wide-range of disciplines and each of us brings a different perspective to the screen.
This 'melting pot' mentality is what we try to emulate on our panels. Topics at these chats include parental philosophies, emerging technologies, defining real heroes for our children, and how to inspire value in learning about our past. It is our hope that the audience will walk away with something that they were not aware of when they entered the room.
We call it 'living history' where you can awaken a student's natural curiosity with a great story. This can lead to further interest and investigation into the topic. In other words, our film on Richard Kirkland may drive a student to want to learn more about the Battle of Fredericksburg, which in turn will result in he/she opening a book, or visiting the battlefield to see firsthand what Kirkland experienced.
Chances are they will relate more to the subject matter and walk away with a better understanding of the events from that day. In addition, they will probably retain the memory of that experience, which will assist them in recalling the lessons that they learned. (I can't tell you the title of my 10th-grade history book or what was in it, but I remember our field trips to Fort Pitt and the Carnegie Museum.)
None of our team are licensed teachers or educators at any level, but the faculty and professors at these prestigious schools really like what we have to say and see it as a benefit. At Liberty, students were encouraged to attend our screening and some classes received extra credit for writing their thoughts. Our stage crew was students and the press that covered us were journalism majors. All of them seemed to have an interest in either history or film.
What really impressed me were the young people that work at the National Civil War Chaplains Museum and the Victorian Society. Clearly they have a passion for the subject and their contributions as research assistants, guides and re-enactors are extraordinary. Some even expressed a desire to work on their own documentary films.
As a 16+year resident of the great state of Virginia, and a parent of 4 (spread out from college to diapers) I have always been disappointed in the Old Dominion's approach to teaching. The public schools in our region receive their funding based upon how well their students perform on an SOL (Standards of Learning) test. The result of this requirement is that you have a child learning the history questions that are on the test instead of a well-rounded knowledge of the topic. In response, parents and mentors must find ways to connect with young people so that they have a desire to look beyond the SOL.
On the other side of the spectrum you have kids in VA private schools learning whatever their teacher feels is important. If "critical thinking" is their teacher's preferred focus, students may learn more about the act of analyzing history instead of the events themselves. This is misguided in my opinion as the 'process' inevitably becomes more important than the subject matter.
Knowing what took place in our past and understanding how we can apply those lessons in our daily lives is what matters. How does one do that? Admitting that times have changed and that this new generation responds differently to learning is crucial. Using the tools and technologies that we have today to reach young people and show them that history doesn't have to be a boring textbook is essential.
The question one should ask is: Are you really teaching history, or are you teaching how to examine history? These are both very different goals. I believe the latter cannot be effective without the former. Inspiration can lead to education. We like to think that our documentary can lead from one to the other.
Stay tuned for photos from this weekend's MWU screening and tour of Brompton.
Posted by ny5/pinstripepress at 11:13 AM EDT
Updated: Thursday, 23 September 2010 11:46 AM EDT
Permalink
|
Share This Post