Book Smart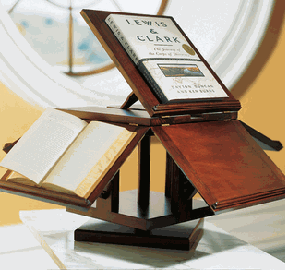 Thomas Jefferson was a man of many talents. As an accomplished architect, planter, author, and politician, he was a shining example of the early-American "renaissance man." His life was lived during a period when art, science and enlightenment ruled the day. Inventions were a passion of Jefferson's and his magnificent home at Monticello features some of the niftiest gadgets ever devised to increase productivity and heighten efficiency. In order to accomplish as much as Jefferson did over the course of a day, several items of ingenuity were designed to expedite his workload. One of his most admired tools (and my personal favorite) is the revolving bookstand.
This brilliant device was constructed in the joinery on Mulberry Row and it allowed Jefferson to view multiple books while taking up a minimal footprint on his desk. The stand could expand to hold five books open at adjustable angles, allowing the reader to consult multiple works at once. The slave Isaac Jefferson recalled that Jefferson had an "abundance of books," with as many as twenty down on the floor at one time. Constructed of solid walnut, the cube-shaped stand has five adjustable rests; one book rests on the top and one sits on each of the four sides. The rests can be folded down to form a cube. A central pole enables the bookstand to rotate at the bottom. (A hole in the bottom suggests the possibility that the bookstand originally was supported by a tripod base.)
According to Monticello's online catalog: "Among the many ingenious devices found in Jefferson's Cabinet, this one perhaps most clearly suggests Jefferson's passion for knowledge. One can imagine him turning the stand, completely engrossed, consulting five books at once to find the answer to a burning question. Our bookstand is a line-by-line reproduction of the original, which was made in the joinery at Monticello, probably from Jefferson's own design. It's great for cross-checking information from several sources or just keeping reference books and current reading handy. Made of solid mahogany with a soft, hand-polished finish, the rotating stand holds five books at adjustable angles on rests that fold down to form a 12" cube. Imported. Price includes a $20 extra shipping charge."
The cost for such an item? The official reproduction (sold by the Thomas Jefferson Foundation) goes for a whopping $618! Quality reproductions can cost up to $1000 and the cheapest imitation I found was $399. This bookstand is my personal "holy grail" so to speak and perhaps someday I will be in the position to splurge on such a luxury item. Until then, I'll have to admire one from afar and silently mock myself for not paying attention in shop class. For those of you who are handy with a hammer, here is a PDF with plans, as well as a link to a video showing how to build your own.
Image source: Monticello.org