Inspiration in "Charm City"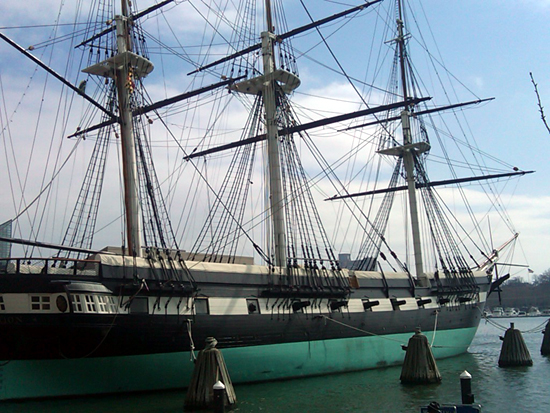 Today I had the pleasure of traveling to Baltimore's Inner Harbor, where I dined on crab cakes in the shadow of the USS Constellation. Constructed in 1854, this vessel is known as a "sloop-of-war" and was the flagship for the U.S. African Squadron from 1859-1861. During this period she disrupted the African slave trade by interdicting three slave ships and releasing over 700 imprisoned Africans. Armed to the teeth, the Constellation boasts 16 × 8 in (200 mm) chambered shell guns, 4 × 32-pounder (15 kg) long guns, 1 × 20-pounder (9 kg) Parrott rifle, 1 × 30-pounder (14 kg) Parrott rifle, and 3 × 12-pounder (5 kg) bronze boat howitzers. Based on a 1797 frigate design, the USS Constellation was a Civil War–era ship.
I was so inspired by my visit, I am now working on a special post about "The Father of the American Navy," John Paul Jones. Of all the officers that I have examined from the Revolutionary War, Jones ranks among the top of the list. His performance under fire is considered by many to be second to none and his tactics are still taught by the U.S. Navy today. Captain Jones also has family ties here in Fredericksburg and some of his relatives are buried here. Everyday on the way to the train station I walk past the corner of Lafayette Blvd. and Caroline Street, where a beautifully restored row house stands that belonged to Jones's brother, William Paul. Perhaps I will make some time to stop there one day and discuss the property's legacy with its owner. Stay tuned for that JPJ post and be sure to visit the USS Constellation the next time you find yourself in Baltimore, craving crab cakes.
On a side-note, please look for my article in this Saturday's Free Lance-Star Town & County on Mort Künstler's newest release, The Angel of the Battlefield, as well as the release of my histiography written for the painting itself which depicts Clara Barton's experience at Chatham. This will be the fourth FLS article I've penned on Mort and the fourth painting copy I've penned for Mort. He will be coming to town on the 20th for a print signing and I'll be sure to take some photos to share with you here.
(Photograph by me, via BlackBerry)