Revisiting a Massacre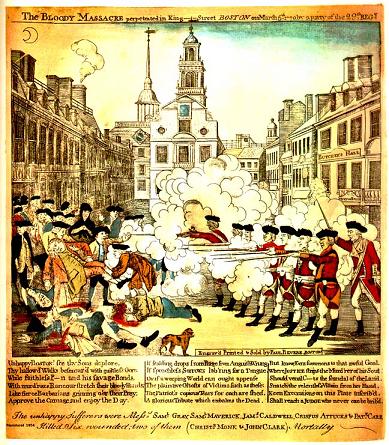 Today is the anniversary of one of the most significant dates in our nation's history...March 5, 1770: A contingent of armed British soldiers fire into a crowd of protesting colonists in what will become known as the Boston Massacre. Five colonists are killed. The soldiers, charged with murder, will contend the protestors were threatening them with rocks and clubs. The killings will spark public outrage, demands for the death penalty for the soldiers responsible, and draw America even closer toward revolution. Ironically, patriot and future U.S. President John Adams is the lawyer who will successfully defend the British soldiers. A portion of Adams' argument reads: "Facts are stubborn things; and whatever may be our wishes, our inclinations, or the dictates of our passions, they cannot alter the state of facts and evidence: nor is the law less stable than the fact; if an assault was made to endanger their [the soldiers'] lives, the law is clear, they had a right to kill in their own defense." Text courtesy of Mark Jones, friend and historical-date-referencing extraordinaire.
On a related note, this afternoon I was contacted by Julio Torres, an intern from the Oxford University Press, who directed me to a very
thought-provoking and unique post
by Alan Archer, author of
AS IF AN ENEMY'S COUNTRY
, that explores the Boston Massacre with a contemporary perspective that remains thoughtful of current military events. Enjoy.
ABOVE:
Engraving by Paul Revere.