Update: Pines Bridge project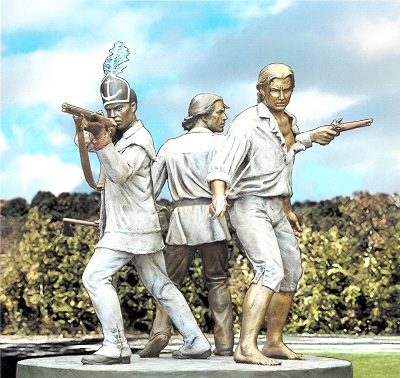 Our friend Michael Kahn just sent me an update on the Pines Bridge Monument Project:
The Pines Bridge Monument Committee, in conjunction with the Yorktown Chamber of Commerce, the Yorktown Historical Society, and the Yorktown Planning Department is pleased to announce the selection of a sculptor and design for the Battle of Pines Bridge Monument. On May 14, 1781, just after sunrise there was a surprise attack on the first Rhode Island Regiment headquartered at the Davenport House in Croton Heights. This regiment was comprised of African American, Native American and European American soldiers under the command of Colonel Christopher Greene.
After months deliberating and considering the diverse designs, we have entered into negotiations with renowned sculptor Jay Warren from Rogue River, Oregon. Mr. Warren's previous commissions include both portions of the New Jersey World War II Memorial, the New Jersey Korean War Memorial, Victims of Terrorism Memorial at the Raritan Bay Waterfront Park overlooking the World Trade Center Site; John Coltrane Monument in High Point, NC, and the Sojourner Truth Memorial in Northampton, MA among many others (www.warrensculpture.com).
As you can see by the artist's sketch, the anticipated sculpture is extraordinary. You can now purchase bricks in support of the project here. Congrats to Michael and his committee for proving that commemorating our collective history matters.