Welcome to our new photo album featuring original photography taken at America's Hallowed Grounds by Christian Civil War author and essayist Michael Aubrecht. All photos are the property of the Pinstripe Press. Content may NOT be reproduced without expressed written consent from Michael Aubrecht. Please email for permission to use any images in your print and/or online publications.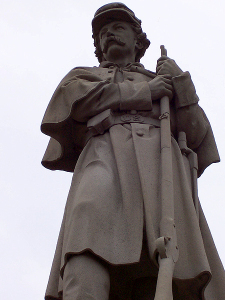 Antietam Battlefield, Sharpsburg MD
This stone sentinel is 'Old Simon' who is forever standing guard over his comrades at the Antietam National Cemetery. This resting place is absolutely beautiful from the castle-like entranceway structure that was designed by Paul Pelz, to the chiseled monument recognizing German citizens who served in the Union Army. Another wonderful feature is the tombstone index that is posted in a large binder at the front gate. Flipping through the book, we were able to find some familiar surnames, and then their corresponding markers.