The Soldier's Parson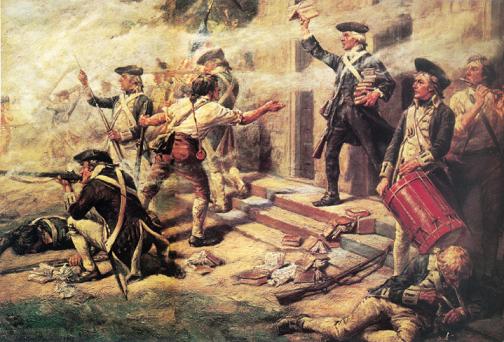 Although military chaplains did not exist in an 'official capacity' there were instances of clergymen following their flocks into the field during the American Revolution. James Caldwell, also known as "The Fighting Chaplain" was a Presbyterian minister who served with the Continentals as both an army and militia chaplain. Following his graduation in 1759 from the College of New Jersey (later Princeton), Caldwell became the pastor at the Elizabethtown Presbyterian Church. His church was burned to the ground by Tories in 1780 setting him on the path towards a new purpose.
Caldwell's reputation among the troops quickly became legendary following the Battle of Springfield. According to the Library of Congress' website Religion and the Founding of the American Republic, "At the battle of Springfield, New Jersey, on June 23, 1780, when his company ran out of wadding, Caldwell was said to have dashed into a nearby Presbyterian Church, scooped up as many Watts hymnals as he could carry, and distributed them to the troops, shouting 'put Watts into them, boys.'"
Tragically the clergyman and his wife were both killed before the war ended. Elizabeth Caldwell was struck down by British gunfire during the Battle of Connecticut Farms. It was reported that she had been shot through the window of their home as she sat with her children on a bed. The circumstances over this "accidental shooting" were disputed. James' death was equally tragic as he was shot by a Continental sentry after refusing to allow the inspection of a package. The sentry, James Morgan, was hanged for murder after rumors leaked that he had been paid to assassinate the chaplain. With the untimely death of both parents, the nine orphaned Caldwell children were raised by relatives and friends of the family.