A perfect day in the Old Dominion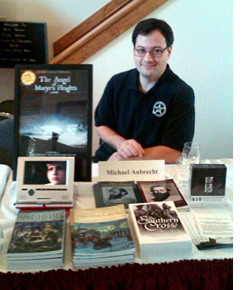 This weekend's Civil War Author's Day at Gray Ghost Vineyards could not have gone better. I sold every copy of all 5 titles in my inventory and gave a talk on camp life of the Confederate soldier. I also got to indulge in some wonderful Victorian White and had the privilege of sharing a table with Mr. Kim B. Holien, Charles V. Mauro, Edward C. Trexler, Jr. and Clint Johnson. I want to thank the good folks at the Gray Ghost winery for their wonderful hospitality.
No rest for me as I have 2 film screenings coming up at SPC, an interview for This Mighty Scourge blog, and the BIG Thanksgiving weekend premiere in Pittsburgh to prepare for. Stay tuned for a special guest post in my absence.