"The fellows from Hookers are poor players."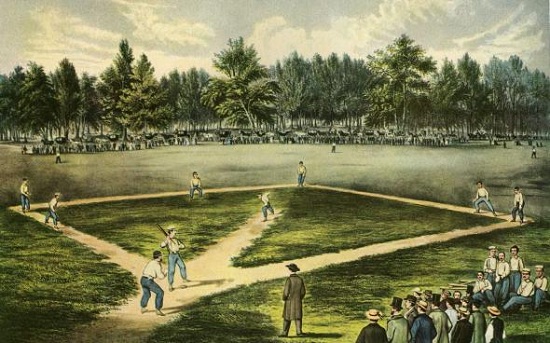 It's been a little while since I posted anything Civil War or Baseball-history related and here's a great opportunity to do both. A few weeks ago I received a very interesting email from Thomas Howland DeWitt. Thomas' great-great-grandfather Thomas Smith Howland was a member of the 33rd Massachusetts infantry. During the war Thomas wrote several letters home to his family that discussed the game of baseball being played in camp. Below is the transcript of one of them.
Camp 33rd Mass. Vols.
April 13th 1864
Dear Mother
I received my letter and papers yesterday. I'm sorry you have such bad luck with your hens; probably they will do better when warm weather comes. I hope you will enjoy your North Easter. We are having splendid weather. So warm that I sit in my shirt sleeves writing. The woods begin to look very green. Apple trees have been in bloom some time, and wild flowers are more plenty than I sever saw them at home in any season of the year.
The match game of the baseball between the staff and orderlies of Gen Hooker and thirteen players from our regiment came off this forenoon. The result was in favor of our regiment. The innings stood seventy to eleven. Pretty badly beat wasn't they. They will play another game this afternoon. General Hooker ordered Colonel Wood to postpone brigade drill that they might play.
Locke, Cushman, and myself went over the mountain to the Tennessee fishing Saturday. In the gap through the mountains there are many beautiful wild flowers; I noticed several kinds of fern also. Tomorrow I will get some and send you. Snakes are getting to be very plenty along the river. The citizens say there are rattlesnakes here but I haven't come across any yet. Going to have to hunt for them some day. We found an old boat in the river, bailed it out, and embarked. The fishing was rather poor. It had been raining and the water was muddy. WE caught a few catfish and some others that I didn't know the of. Ducks were very plenty if we had brought our guns we could have done better shooting than fishing. We had a grand time. I felt independent once more, floating about on the river, seemingly hemmed in by the wild mountains. You cannot imagine what a pleasure it is to anyone who has long been under restraint; compelled to obey the least wish of his superiors to get away from their influence and feel that he is free to do his own will. I no not see how any man can be a slave. I like to be my own master. Well to chose even the profession of a soldier. I am willing and intend to remain in the army until I see the end of the rebellion, then I shall get out as soon as possible. But to return to fishing. We kept on down the river until we came to Kelly's Ferry, the placed where our rations were formerly landed, and took the old corduroy road over the mountains to camp. A distance of some five miles. You have heard poets talk of the air laden with the perfume of roses but words fail me to describe the very odorous but not very delicious essence of mule that perfumed that old corduroy. It was almost insupportable. That portion of the road running over the mountain is ornamented with a dead mule every rod or two. Some are thinly covered with earth but many of them are entirely uncovered.
The second game of ball has come off and we stand seventy to seventeen almost as bad as before. Considerable money changed hands on the results of these two games. The fellows from Hookers are poor players. I don't believe you could pick out thirteen men in our regiment but what could beat them.
Your affectionate son,
TSH
For more on Civil War baseball read my article for Civil War Historian magazine Battlefield Baseball and don't forget to check out our You Stink! blog. Eric and I have begun working on our follow-up Baseball's Could Have Beens and are starting to book our first speaking engagements of 2013. Stay tuned!