150 years ago this week (part 2)...The Civilians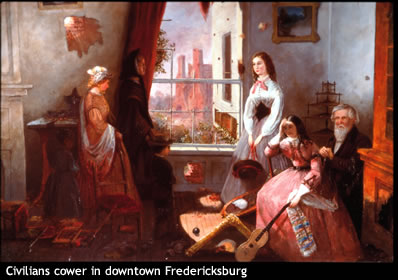 As we march on with this week's commemoration of the 150th anniversary of the Battle of Fredericksburg, I would like to share some past posts and articles dealing specifically with the experiences of the civilians prior to, during, and after the carnage that rolled over their town like a mighty wave. I wrote an entire book on this perspective of the fight titled
Houses of the Holy: Historic Churches of Fredericksburg
. Most of these posts contain excerpts from that book:
Collateral Damage: Although the Union's artillery successfully wreaked havoc on the town of Fredericksburg, it appears that 100+ guns did little to accomplish their tactical goals. Unfortunately they did a lot of damage regardless.
Indemnity in Black and White: Many of the churches that were involved in the Battle of Fredericksburg submitted itemized claims to the court of the United States government as a petition to recover the cost of damages incurred during the federal army's occupation. There was a distinct difference in the manner in which white churches and black churches received fair compensation.
Pre-war race relations at Fredericksburg's landmark churches: An examination of the split between the whites and blacks attending Fredericksburg Baptist, resulting in Shiloh Baptist (Old Site), as well as the denominational split between the Methodist church over the issue of slavery. (I also did a lecture on this at Manassas Museum.)
The Great Revival at St. George's Episcopal Church: Despite receiving extensive damage during the Battle of Fredericksburg, St. George's hosted a series of services and revivals throughout the remainder of the war.
In honor of Black History Month: As Fredericksburg's only African-American church at the time of the battle, Shiloh Baptist (Old Site)'s origins and experiences were quite different than their white counterparts.
Angel of the Battlefield: Here is a piece I penned for Mort Kunstler on Clara Barton and Walt Whitman tending to wounded Union soldiers at Chatham Manor on Stafford Heights in the wake of the battle.
Human Decency During the War: Here's an article I wrote for The Free Lance-Star on the pre-battle fraternization that took place between soldiers on both sides of the Rappahannock River.