NEW book now available!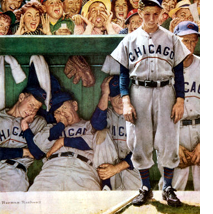 It has been over three years since I've been able to announce the pre-order availability of one of my books. I am especially fond of this project as I got to co-author it with one of my favorite Civil War historians, Eric J. Wittenberg.
Years ago I caught Eric on PCTV participating in a Gettysburg College panel discussion on cavalry operations. I went on to review several of his books for The Free Lance-Star. Now just a few years later, I am sharing a cover credit while helping to fulfill an idea that Eric's been carrying around since 1974.
I am also thankful for the opportunity this project has given me to revisit my earliest writing days at Baseball-Almanac. Eric and I anticipate doing a lot of publicity surrounding this title to include media appearances, speaking engagements and a website. The official release will be this spring, but you can pre-order it now from The Kent State University Press.
You Stink! Major League Baseball's Terrible Teams and Pathetic Players
by Eric J. Wittenberg & Michael Aubrecht
There are countless volumes celebrating the best teams in professional baseball. Unfortunately, winning represents only one side of the game. For every champion's record-setting season, there has been an equally memorable story of defeat. These teams and their shameful contributions to America's national pastime have been a neglected topic in the annals of baseball history. Until now. In "You Stink!," two fanatical historians (or historian fans), Michael Aubrecht and Eric Wittenberg, give credit where it is far overdue with a statistically backed, satirical look at the worst teams and individuals ever to set foot on a diamond. "You Stink!" includes franchise origins, detailed stats, player profiles, photos, and more, as well as a collection of long-format essays in a "Hall of Shame" that recognizes some of the worst moments ever witnessed on a ball field.
CONTENTS:
Foreword by Dave Raymond (The Philly Phanatic)
Introduction: Monument to Mediocrity
TERRIBLE TEAMS:
NOT LOUISVILLE SLUGGERS: The 1889 Louisville Colonels
BAD NEWS BROWNIES: The 1898 St. Louis Browns
SQUASHED LIKE A BUG: The 1899 Cleveland Spiders
"ET TU, BRUTE?": The 1904 Washington Senators
THE CURSE CONTINUES: The 1932 Boston Red Sox
EVEN THE BABE COULDN'T SAVE THIS ONE: The 1935 Boston Braves
FROM DYNASTY TO DESPAIR: The 1916 Philadelphia Athletics
62.5 GAMES OUT OF FIRST PLACE: The 1942 Philadelphia Phillies & A MLB RECORD 23 STRAIGHT LOSSES: The 1961 Phillies
AT LEAST THEY WERE CONSISTENT: The 1950-1954 Pittsburgh Pirates
THE WORST RECORD OF THE MODERN ERA: The 1962 New York Mets
ONE YEAR OF WRETCHEDNESS: The 1969 Seattle Pilots
IN NEED OF FORGIVENESS: The 1973 San Diego Padres
FUNDAMENTALLY FLAWED: The 1988 Baltimore Orioles
A COMPLETE MASSACRE: The 1991 Cleveland Indians
SCAREDY CATS: The 2003 Detroit Tigers
HALL OF SHAME:
Worst Season: FROM HEROES TO ZEROS: The 1884 Wilmington Quicksteps
Worst Investment: MONEY FOR NOTHING: $100M 2008 Seattle Mariners
Worst Collapse: ROTTEN TO THE (BIG APPLE) CORE: The 2007 New York Mets
Worst Pitching Staff: SCORING TEN RUNS A GAME BUT STILL LOSING: The 1930 Philadelphia Phillies
Worst Scandal: CHEATERS NEVER WIN: The 1919 "Black Sox" Scandal
Worst Call: *61 IN '61: Maris Gets the Asterisk
Worst Team Year in and Year Out: ABANDON SHIP: The Pittsburgh Pirates and 17+ Straight Losing Seasons

TOP 10 WORST PLAYS:
1. Buckner's Blooper
2. Fred Merkle's Boner
3. Pete Rose Ruins Ray Fosse
4. George Brett's Pine Tar Incident
5. Cap Anson's Racist Reluctance
6. Players' Strikes ('72, '81, '94)
7. Mickey Owen's Passed Ball
8. Babe Slugs Umpire Brick Owens
9. Disco Demolition Debacle
10. Brooklyn Dodgers Go West

WORST PLAYERS:
BATTER: Bill Bergen
PITCHER: Jim Hughey
CATCHER: John Humphries
FIELDER: Tony Suck
GRAND "CHAMPION": Clarence "Choo Choo" Coleman
OWNERS: The Not-So-Mighty Quinns
DISAPPOINTMENT ON THE DIAMOND: A Timeline of Terribleness
NOTABLE QUOTABLES: Lines about Losing…
*This book is 330+ pages and features over 50 photographs.