Walking "The Dueling Path"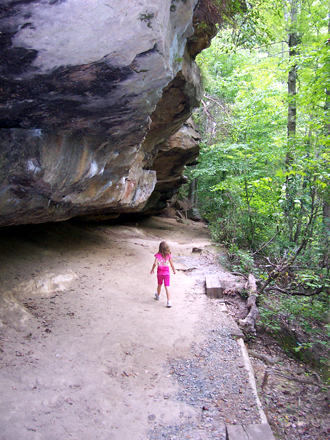 This weekend the family and I went on a wonderful nature walk at Alum Spring Park. For most folks this 34-acre property tucked back behind the Greenbrier apartment complex is merely a recreational site featuring picnic tables, playgrounds, hibachi grills, and hiking trails. For those who have more of a historical interest, it is also the site of both natural and colonial-era landmarks.
This includes a geological sandstone formation estimated to be 100 million years old, the locations of an old gristmill and icehouse from the 1800's, remnants of a 30ft. dam and rail bed for the old Virginia Central Railroad, property that once housed Hessian POWs, and a postcard-pretty stop along the waterline known as "Fat Annie's Swimming Hole." (George Washington had surveyed the property for his brother-in-law, Fielding Lewis, who operated a mill there.)
Alum Springs also features a unique site of deadly confrontations. Christened "The Dueling Path," this narrow cliff-side alleyway between the Alum Spring rock and the mill pond, bore witness to two tragic encounters. According to Robert A. Hodge's book titled "Alum Spring Park: A History":
In or about March of 1790 the members of the Masonic Lodge No. 4 of Fredericksburg gave a large and brilliant ball. Among those in attendance were members William Glassell and Robert Ritchie. William Glassell, a native of Scotland, was a successful merchant and respected citizen who had married a sister of Anthony Buck, the latter a highly esteemed auctioneer of the town. Glassell had escorted to the ball a young, attractive and respected orphan girl who was living in his home.
Mr. Ritchie was originally from Essex County down the river from Fredericksburg, but doing business in the town. He was not married. During the course of the evening at the Masonic Ball, and somewhat under the influence of wine, Ritchie offered a distinct insult to Glassell's young guest, then refused to make a suitable apology when called upon to do so. Glassell sent a formal challenge which Ritchie accepted, choosing pistols as the weapons and Alum Spring as the place. Ritchie, knowing Glassell was an excellent marksman, was concerned enough over the event to make his will which was dated 27 March 1790 and if probated left all his legacy to his sister, Elenora.
Glassell had second thoughts and, through friends, attempted to get Ritchie to reconsider. Ritchie refused and the duel took place on the pathway along the Alum Spring Rock in front of the clear mill pond. At first shot, Ritchie fell to the ground, mortally wounded. Glassell hurried to his side and asked forgiveness, which was refused. After Ritchie's death, a murder warrant was issued. Glassell was taken before a magistrate, but was acquitted.
This was also the site of a tragic family dispute that ended in bloodshed: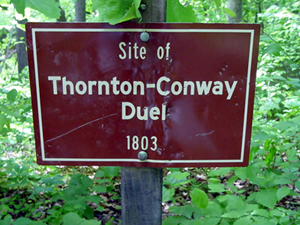 Cousins William Thornton and Francis Fitzhugh Conway were each attracted to a young niece of James Madison. Miss Nellie Madison was a Christmas guest at Chatham in this year of 1803. William and Francis arrived at the Chatham festivities on horseback and their horses were stabled. Francis had adorned his horse with a brand new handsome bridle and during the evening made veiled references to Miss Nellie as to the "surprise" he would reveal later that evening.
Unfortunately, when departure time came and Francis was primed to "show off", the groom had switched bridles on the horses and it was William's horse which made the greater impression on Miss Nellie. Angrily, Francis accused William of having bribed the groom. The denial simply aggravated the argument and the end result was a challenge to a pistol duel to take place at the Alum Spring site.
They met on the narrow pathway between the Alum Spring rock and the mill pond. At the word "fire" both shots sounded almost simultaneously and each bullet passed through the region of the bladder in each combatant. Thornton was able to ride back to Fredericksburg where his stepfather, Dr. Robert Wellford, apprehended that the wound would be fatal and William's death occurred the same hour that Francis died.
The Virginia Herald of February 17, 1804, carried a notice that a brace of brass-barreled pistols was found near the Alum Spring and could be claimed from William or John Rutter.
John Hennessy has posted some interesting tidbits on Alum Springs, over on the Remembering: Musings on Fredericksburg and Manassas.