Support the CWT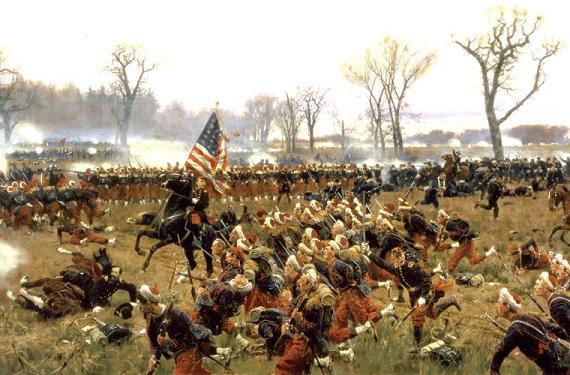 'Union Col. Charles Collis' charge at the Slaughter Pen Farm' by Carl Rochling
The following is a letter I sent to the Spotsylvania Board of Supervisors in support of the Civil War Trust's plans to purchase the abandoned GM Powertrain plant adjacent to the Slaughter Pen Farm. I encourage everyone to voice their support and help retrieve and protect this pivotal part of the Fredericksburg Battlefield.
August 8, 2011
Benjamin T. Pitts
Chairman
Spotsylvania County Board of Supervisors
Post Office Box 99
Spotsylvania, VA 22553
Dear Chairman Pitts,
I would like to take this occasion to voice my absolute support for the proposed purchase of the General Motors Powertrain plant on Tidewater Trail by the Civil War Trust. As a Civil War author, guide and documentary filmmaker, I am well aware of the historical significance of this location. The fact that we now have a chance to properly preserve it during the 150th Anniversary of the American Civil War presents the County with a tremendous opportunity.
As a local small-business owner providing battlefield tours to wheelchair travelers and disabled veterans, I rely on the continued protection of our region's hallowed grounds. The Slaughter Pen Farm — just northwest from the GM plant — is one of the most pristine and unique spots on any of our area's battlefields. Visitors routinely comment on how it is one of the few remaining places where they can truly "go back in time." Together with the GM site, which the Civil War Trust plans to restore to its 1862 appearance, Spotsylvania County will have a true cultural — and economic — treasure, complete with interpretive signage and walking trails. This investment will further showcase our area as a historical gem while strengthening our visitation numbers.
I understand that since GM closed the plant last year, there has been little to no interest by other commercial entities to purchase it. Unfortunately, there is simply no market for large industrial structures in this economy. By razing the abandoned plant and transforming the property into a new destination park, the Civil War Trust estimates that this will translate into $1.2 million in heritage tourism benefits to the county per year.
This purchase appears to me to be the right decision on all counts — for our historical and economic benefit alike. Spotsylvania County has a wonderful opportunity to expand on its already stellar draw in heritage tourism and, at the same time, boost the many local businesses which rely on the visitors to our historic sites for our well-being. In today's economy, we must embrace what sets us apart from other places and find ways to capitalize on them. Allowing the Civil War Trust to buy and restore the GM property is exactly what Spotsylvania needs.
Sincerely,
Michael Aubrecht
All-Access Battlefield Tours
www.pinstripepress.net/AABT.html