Hope to see you there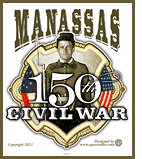 Come see The Angel of Marye's Heights in Manassas Virginia on May 15th.
This Sunday (May 15th) I will be hosting two screenings (at 2:00 and 3:00) of "The Angel of Marye's Heights" documentary at the Manassas Museum. I will offer some brief opening remarks from the film's producer point of view. DVDs of the film will be available in the Museum Gift Shop along with several of my book titles. For more information, visit the Manassas Museum Events Calendar.