An exceptional film. A tremendous loss.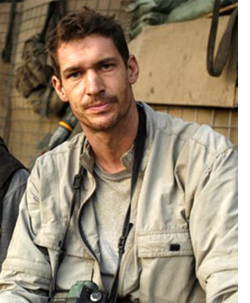 It's just after midnight on Wednesday and I really should be in bed. My day job with the U.S. Marshals Service demands a 4:30 am wake-up call followed by a 1.5 hour train commute. Any responsible adult would have hit the sack hours ago, but what the hell…I've already accepted the fact that tomorrow I probably won't be worth a damn anyway. Why am I still awake? I just finished watching what may be the best short film that I have ever seen.
It's called Restrepo and it tells the incredible life and death story of a forward-deployed U.S. platoon in Afghanistan, operating in the Korengal Valley. It's raw, visceral, and makes you proud to be from a country where boys like this are raised. It was released by National Geographic Entertainment, nominated for an Oscar (Best Documentary) and won the 2010 Sundance Film Festival Grand Jury Prize. Film critic Peter Travers outlined this remarkable movie's plotline for his review in Rolling Stone Magazine:
Here's a documentary that embeds you deep into the war in Afghanistan. Filmmakers Tim Hetherington and Sebastian Junger follow a platoon of U.S. soldiers, the Second Platoon, Battle Company, 173rd Airborne Brigade, during their 14-month deployment to the Korengal Valley. The troops are shaken when their beloved medic, Juan "Doc" Restrepo, is killed in action. That's when Capt. Dan Kearney pulls out all the stops to allay fears even in the Taliban war zone. Naming their base after Restrepo, these soldiers are seen dealing with death on a daily basis. The filmmakers offer no commentary. We watch. And what we see is explosive, deeply moving and impossible to shake.
As a documentary producer, I am ashamed to say that I only learned of this film today after reading a report that its director/co-producer was killed while covering the fighting in Misratah, Libya. Another photojournalist was killed in the attack and several others on their crew were badly wounded. This seems to be the same sad story that we have heard all too often in recent years…some son of a bitch in a towel with an RPG pops out of a hole and takes a potshot at the good guys. I guess these insurgents and rebels think that the media makes just as good a target as soldiers do. It speaks to their cowardice as attacks on the press have ramped up all over that part of the world. I guess if you can't hit the guys with guns, aim at the guys with cameras. Bastards.
The brilliant mind behind this film is, or was, Tim Hetherington, a highly respected British journalist and filmmaker. He was an experienced, imbedded-correspondent with an amazing talent for stripping away all the political bullshit to reveal the tragic simplicity of war. I read several interviews with him this evening and one statement in particular jumped out at me. He said, "I've come to realize the war machine is, in fact, very human. Take a group of young men, train them together, put them on the side of a mountain and they will kill and be killed for each other." That sums it up.
As someone living in VA and working in DC, I know soldiers that were deployed to Afghanistan, as well as some contractors that are there now. THESE guys are the real heroes. They volunteer to do the most dangerous jobs – in the most dangerous places. And they do it to protect us and improve the lives of uncivilized people who hate them. The debt we owe them can never be paid in full.

Afghanistan is a mess. It is an undeveloped bastion of 'suck' on a good day, so I can't even begin to imagine what daily firefights and mortar attacks does for the place. Yet here we have a team of documentary filmmakers, right in the thick of it, getting incredible footage while ducking bullets and tracers. The result is an intimate portrait, plucked from the chaos of combat that cannot be duplicated any other way.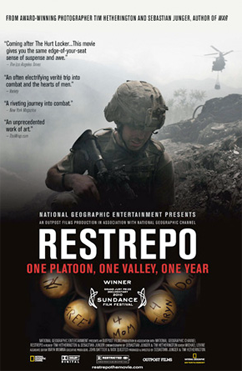 Unlike most films today, Restrepo doesn't have any fancy graphics or special effects. The instrumental song that plays the audience in and out of the film was performed live by a soldier with a dirty acoustic guitar. Some of the footage is gritty and blurry and so freaking real you get a knot in the pit of your stomach as you watch it. The stress level that these soldiers experienced is shared beyond the screen as you too find yourself anticipating the danger that lies around the bend. Several of the troops are shot and killed during the film, reinforcing the fact that this is reality-TV for real.
I never met Mr. Hetherington, nor was I aware of his contributions to the world until today. Unfortunately it is only after his untimely death that I am now discovering an amazing body of work from print and television - to film and photo.

Our documentary projects at Right Stripe Media are historic and take place on Civil War battlefields and Wild West sites hundreds of years after the fighting ended. If we want to show the carnage, we recreate battles and gunfights with re-enactors and pyrotechnics. The only danger we face on one of our shoots is sunburn or maybe eye strain from spending too much time at the computer. So it's a very sincere gesture when I say that I want to tip my hat to all of these battlefield filmmakers, especially Tim Hetherington for having the vision, and the balls, to create movies like Restrepo.
Real war-journalists, the "Hetheringtons" of the world, risk life and limb to visually preserve and present history as it unfolds. Our production group's mantra is that we create living history. Tim and his comrades capture it. He will be missed by many, now including me. And although I may never produce a documentary with the soul of Restrepo, I am inspired to try, now more than ever.
ADDED 4/21: Our friend Jared Frederick over at History Matters had the pleasure of meeting and speaking with Tim Hetherington a few months ago. He posted a wonderful blog piece on February 22nd detailing the experience.