Continuing with our recurring theme on the myths of the Founding Fathers…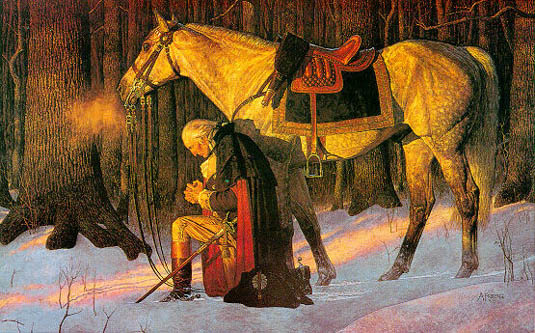 You may be familiar with the painting above titled "The Prayer at Valley Forge." This controversial image was painted by artist Arnold Friberg to celebrate our country's Bicentennial in 1976. It is one of several notable artworks depicting General George Washington in the act of prayer while at Valley Forge. In the Congressional Prayer Room at the Capitol there is a stained-glass window also depicting the general on his knees, praying in the snow at the same location. Similar images appeared on a 2-cent stamp in 1928 commemorating the 150th anniversary of the Valley Forge encampment, and on the 13-cent Christmas stamp in 1977. Although it is very likely that Washington prayed while on campaign, this particular (and repetitive) depiction of him (at Valley Forge) stems from a highly-contested story which is believed and refuted by many.
Even a casual Google search on this event will reveal all kinds of amateur/unsanctioned web-pages where religious organizations or individuals have assembled various incarnations of this event. Some even include quotes, which were apparently "re-discovered" in the 20th-century. These fallacies appear to fulfill a need to validate that America was founded as a Christian nation. One page even states that: "His 'Prayer at Valley Forge' was a well known fact until the latter half of the 20th century, when the United States, in the process of replacing Christianity with Secular Humanism, allowed itself to believe that the prayer was merely sentimental legend." Of course there is no source to support this claim.
It is the need to 'prove' or 'disprove' this event that fascinates me. For a more scholarly (and perhaps objective) interpretation of this event, I looked to renowned Washington historian Edward G. Lengel. Professor Lengel is the editor in chief of the prestigious Papers of George Washington project at the University of Virginia. He has also written two excellent books on the man. These include Inventing George Washington: America's Founder, in Myth and Memory and my personal favorite, General George Washington: A Military Life. He is without an agenda and according to him; there is less to the story.
I'm not the only one who considers Dr. Lengel an expert. In an article written for the Boston Globe titled "The many myths of George Washington," contributing writer Michael Kenney challenges the genesis of this depiction of a praying patriot by quoting the author. He writes:
Despite the depictions [of Washington praying at Valley Forge], it is a story with "dubious origins,'' writes Edward G. Lengel in "Inventing George Washington,'' his account of the myths and legends that sprang up to breathe life into a symbolic figure. Like the kneeling-in-the-snow tale, the cherry-tree yarn first appeared in "Parson'' Mason Weems's biography published in 1800 — a temporal immediacy that did not, however, turn the anecdotes into facts. Weems, Lengel explains, was "lazy'' about research and facts, allowing his imitators to produce "an increasingly outrageous array of myth, legend, and outright fraud in the name of recovering Washington's humanity.''
Lengel's claims intentionally counter the oft-misquoted account that "supports" this moment of Washington knelt in prayer. It was apparently recorded in the "Diary and Remembrances" of Reverend Nathaniel Randolph Snowden who recalled:
…"Do you see that woods, & that plain?" It was about a quarter of a mile off from the place we were riding, as it happened. "There," said he, "laid the army of Washington. It was a most distressing time of ye war, and all were for giving up the Ship but that great and good man. In that woods pointing to a close in view, I heard a plaintive sound as, of a man at prayer. I tied my horse to a sapling & went quietly into the woods & to my astonishment I saw the great George Washington on his knees alone, with his sword on one side and his cocked hat on the other. He was at Prayer to the God of the Armies, beseeching to interpose with his Divine aid, as it was ye Crisis, & the cause of the country, of humanity & of the world. Such a prayer I never heard from the lips of man. I left him alone praying. I went home & told my wife, I saw a sight and heard today what I never saw or heard before, and just related to her what I had seen & heard & observed. We never thought a man c'd be a soldier & a Christian, but if there is one in the world, it is Washington. She also was astonished. We thought it was the cause of God, & America could prevail."
As wonderful as that sounds, it is obviously written with a flair for the dramatic. Even as far back as 1945, Washington curators and historians have questioned the validity of this story. In an article written for the Valley Forge Historical Society's publication The Picket Post titled "Prayer of Valley Forge May Be Legend or Tradition or a Fact, Yet It Remains Symbol of Faith" author Gilbert Starling Jones states:
Few incidents in the life and actions of Washington, while he was Commander-in-Chief of the armed forces battling for The Independence of the American Colonies have been more controversial or more often related than the "Prayer of Valley Forge." Did he, or did he not, pray at the Winter Encampment is quite as familiar to readers of historical tomes touching the American Revolution as "to be or not to be" is to the average man who may or may not know further about the Bard of Avon. No attempt is made, presently, by this compiler to establish documentary proof that Washington was seen at Valley Forge in supplication upon the Divine Will in the need of Almighty direction. The purpose, more especially, is to direct the readers' thoughts into a channel whereby to essay the relations of an episode, be it traditional or fact, that may furnish a key to the inner depths of the character of the great and lonely man at Valley Forge — a character so needed in today's world.
It appears that even the society charged with the preservation and presentation of Valley Forge history openly admitted the questionable accuracy of the story. Since then this particular image of Washington has grown to become as much a cherished memory as a form of propaganda. This is no doubt due to the governmental-endorsement implied by the stained glass and stamps – and the convenience it levies to religious groups. In addition to print and paintings a bogus guidebook was published that directed Valley Forge tourists to the: "exact spot upon which the General kneeled in prayer." This is perhaps the falsest claim of all.
The question in my mind is not if George Washington did or didn't pray at Valley Forge as presented in the above descriptions. The questions are why is this particular event so significant? Why this moment – at this location? And why did it become such a contested image?
Historically, I'm with Dr. Lengel. I don't necessarily believe that this painting depicts an actual event. I also don't fancy the fact that religious organizations claim absolute validity over it in support of their political agenda. I do however, believe what this image represents. Valley Forge was one of the lowest points for the Continental Army. It is during the most trying of times that our faith most often prevails. Accurate or not, General Washington sets an example we all could follow.