Next piece for PAR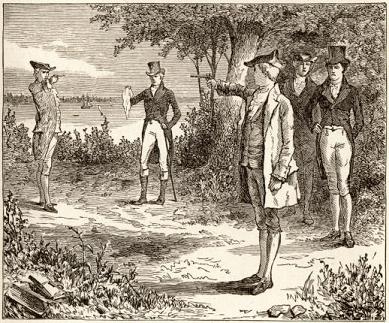 I am researching material for a piece for Patriots of the American Revolution magazine about the infamous Alexander Hamilton – Aaron Burr duel. In addition to the event itself, I am including a sidebar that outlines the proper rules of engagement for dueling. Burr is someone that I know very little about and I am looking forward to learning about his life after the duel. What was it like to be the man who killed Alexander Hamilton? Burr's adversary has always been a perplexing character to me and at first glance, personifies the stubborn "alpha-male" who is incapable of standing down. I wonder if this is true. Two of Hamilton's peers, Ben Franklin and George Washington both opposed the practice of dueling. Franklin referred to duels as a "murderous practice" adding that "they decide nothing" and Washington urged his officers to refuse any challenges during the Revolutionary War. Unfortunately these opinions were lost on their colleague who was mortally wounded and died on July 12, 1804.
The end of the article will deal with the after-effects of Hamilton's death on the public's conscience. Many people are unaware of the anti-dueling movement that arose from his death. Hamilton's father-in-law attended a church in Albany where Pastor Eliphalet Nott gave a sermon that was reprinted in a tract titled
A Discourse, Delivered in the North Dutch Church, in the City of Albany, Occasioned by the Ever to be Lamented Death of General Alexander Hamilton, July 29, 1804
. Two years later, a minister named Lyman Beecher delivered an anti-dueling sermon later re-printed in a pamphlet as
The Remedy for Dueling
, which was distributed by the Anti-Dueling Association of New York. Both clergymen were more successful in spreading their message than their predecessor, the Reverend Mason Weems, who had published a fiery pamphlet titled
God's Revenge Against Dueling
prior to the Hamilton-Burr match. In this sense, Hamilton's death helped to bring about the end of dueling in America.