Rediscovering my own history
I've been feeling a bit nostalgic lately, so please forgive this self-indulgent post. If you knew us back then, this makes perfect sense. If not, it won't. Every word is true.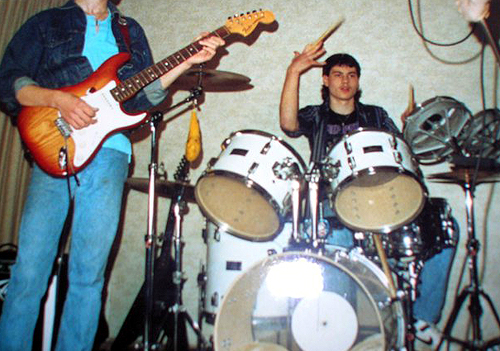 BEHIND THE MUSIC: White Lightning
Nearly twenty-five years ago, four novice musicians came together to form a group that for one brief moment, redefined what it meant to be a garage band in the 1980's. Like most naive artists, even they could not fully appreciate their contribution to the annals of music history. That is, until the unwelcome arrival of middle-age forced them to recall the past. Now, a quarter of a century later, they and their fans are reflecting fondly on a time when big hair ruled the world, and it was all about the music.
This is their story…
White Lightning was formed in the fall of 1986 by a group of schoolmates from Pittsburgh, Pennsylvania. Lead singer Maroon David and guitarist Rich Petrucci were upper classmen attending Keystone Oaks High School. Both teenagers had played together in various basement bands and decided to form a hard rock quartet that would rival all others on the scene.
The challenge was finding the right balance that would complement their musical style, yet allow for growth. Their search took them to the nearby borough of Green Tree. It was here while searching for a rhythm section that they came upon two underclassmen, a bass playing prodigy named Mike Mizia and a highly animated drummer named Michael Aubrecht. Both boys had jammed together in Middle School under the name RATH, but had yet to participate in a serious band. They had purchased their instruments together and were more than eager to jam with experienced musicians.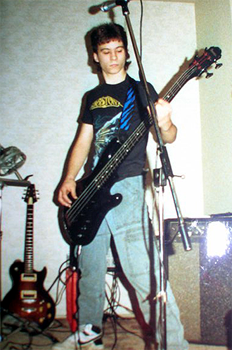 After hearing about the young drummer and bassist from mutual friends, David and Pertucci arranged for an impromptu audition. Mizia and Aubrecht were impressive, but the question remained whether freshman could handle the task of playing with seasoned juniors. After finding that they shared the same musical tastes, as well as a collective desire to write originals, the four musicians decided to roll the dice and form what would become White Lightning. A four-way friendship quickly developed although their differing personalities would clash periodically.
Setting up shop in the Mizia garage, White Lightning quickly put themselves to the task of simultaneously learning cover songs while creating a unique sound for originals. It was while assembling an eclectic blend of covers ranging from Led Zeppelin and Van Halen, to the Kinks and even the Kingsmen that the band began to form their signature sound. Each member's individual style contributed to what would become a mix of popular hard rock and contemporary blues.
Petrucci's distinctive guitar tone came via a crisp Fender Stratocaster that was played through an older, distorted amplifier. This created a full-body of sound that resonated throughout the room. Mizia's combination of pluck and slap bass playing gave soul to the mix, while Aubrecht's wild, often sporadic and spontaneous drumming thundered behind it. Hovering above this wall of sound was the booming voice of Maroon David, a true showman whose acrobatic stage antics were always a crowd pleaser.
After a few months of weekly rehearsals, White Lightning boasted a set-list of over 20 popular and classic tunes. Now comfortable with one another and confident in their abilities, they set out to compose their own songs. At the time, it may have been considered overly ambitious, but original music was absolutely necessary to set themselves apart from the rest of the crowd. Most bands in the area were strictly playing covers. White Lightning vowed to deliver more.
Their first hit was a song titled "Once in Love." Written by David and Petrucci, the lyrics present the story of an infinite relationship between two lovers, preserved forever on the movie screen. It was followed by a humorous-bluesy number showcasing Mizia's mad bass skills titled "My Honey, My Baby" in which David and Aubrecht playfully exchanged vocals while arguing over the same girl. Both songs would become party favorites and proved that White Lightning was more than just a copycat.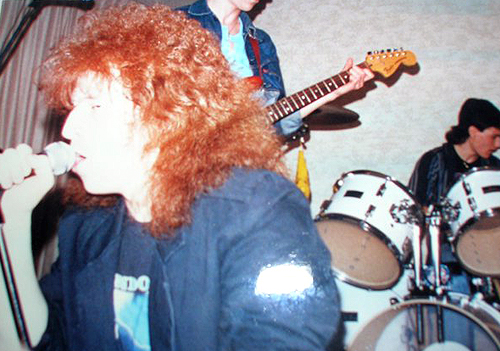 Later that year the band played their first live performance at the Knoll House. Reactions were good, but not quite as good as the band had anticipated. Vowing to work even harder, they went back into the garage and pushed themselves to be even tighter. That Christmas, they returned to the stage for a 2-hour jam at the Mizia House to a packed room. Bootleg videotapes of that performance captured a frenzied crowd, some of who later danced and sang with the band who had clearly hit their stride.
As word spread, White Lightning grew in popularity and successfully auditioned for the annual Varieties Show at Keystone Oaks High School. It would be on that very same stage that the biggest controversy in their history would take place.
In an effort to appear "hip" with their student population, the administration at Keystone Oaks decided to hold their first Battle of the Bands. White Lightning was immediately added to the bill, but after two rival bands dropped out, the invitation was stretched beyond KO's campus to include outside bands of former graduates. One group made up of older musicians stepped forward and was accepted out of desperation, despite having only a single member from the school.
Adding to their advantage was the fact that one of the competition's judges, the school newspaper's music reporter, was close friends with the challenger. Despite playing a solid set of current and classic hits to thunderous applause, White Lightning was bested by the blistering metal act called Amulet, who were allowed to play a much longer set featuring self-indulgent drum and guitar solos that tipped the scales in their favor. Rumors of ballot tampering ignited a scandal that remains unresolved to this day. Several members of the band still refuse to recognize defeat. Despite the controversy, KO's 1987 yearbook listed the event as #3 on their Top 10 Memories.
The backlash from that dark day reached far beyond the bounds of the high school auditorium. Things were never the same after that as the harmony within White Lightning began to dissolve. Differences of opinion over song choices and changes in musical taste led to arguments and even fights. Eventually the band broke up, never to play together again. Despite receiving multiple requests to reform, White Lightning remained a memory.
Mike Mizia went on to play bass in a series of successful groups including High Voltage and the Ike McCoy Band. Today he remains an in-demand bassist playing in multiple genres including a Pearl Jam tribute group called Ten.
Maroon David and Rich Petrucci weathered the storm and remain together to this day. After fronting a series of bar bands including the renowned Triphammer, they formed The Drowning who continue to play to packed rooms. They plan to release a new CD in 2011.
As the only member to abandon the music scene completely, Michael Aubrecht put down his sticks in 1992 and went on to become an author and documentary film producer. He is currently in negotiation with his publisher to pen the official unauthorized biography of White Lightning appropriately titled "The Official Unauthorized Biography of White Lightning."
White Lightning's Fan Club, a.k.a. "The Whities," remain active thanks to the efforts of its original founders Michelle Dethlefs, Casey Jack, and Tracy Gibson. As both girlfriends and groupies, they have carried the torch for the band then and now. When asked what White Lightning means to them, Michelle replied, "It was amazing to be along for the ride with these four HOT and gifted musicians."
Aubrecht echoed that sentiment in an interview when he said, "We knew we were onto something good when the girls stuck around for our practices." Little did he know that he would marry and father four children with one of them. His youngest kids have both shown an interest in the drums and perhaps one will carry on the family tradition.
Recently all four members of White Lightning have reconnected through Facebook. They are currently discussing the possibility of reuniting to celebrate their upcoming 25th Anniversary. Perhaps their enduring legacy can be summed up in a single, poignant lyric from their song Once In Love. It goes: "Cause once in love, it can never change - It will last forever."
Only time will tell if in fact, White Lightning can survive the test of time and last forever. Looking back one fact remains. White Lightning were true to their name. They appeared out of nowhere as a brilliant flash on the music scene… too fast to appreciate…and too damn good to forget.
---
Above: Photos courtesy of Michelle Dethlefs Orlofske. (Live at the Mizia House). Below: Two performances taken from a very badly damaged VCR tape from 1987. I was 14 at the time. Best viewed in Firefox browser.
Posted by ny5/pinstripepress at 10:48 PM EDT
Updated: Wednesday, 3 November 2010 10:28 PM EDT
Permalink
|
Share This Post