Colonial Cribs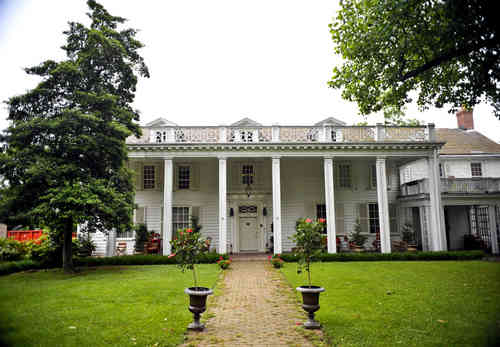 The Charles Dick House, Fredericksburg, VA (Photo by Rebecca Sell/The Free Lance-Star).
Earlier this week I noticed a 'For Sale' sign standing in the front yard of the Charles Dick House. Located at 1107 Princess Anne St, this gem is considered to be the oldest residence in Fredericksburg. Dating back to 1750, the master of this manor ran in circles that included George Washington who dined there in 1771. As a result, I thought I would share some related history on the neighborhood.
The original English settlement of Fredericksburg Virginia was chartered in 1728. Named for Frederick, Prince of Wales, the town's footprint was clustered in a fifty-acre area along the west bank of the Rappahannock River. It was originally engineered in a grid-like pattern, with wide streets that were named after British royalty. The initial plot consisted of sixty-four equally sized lots with two extra spaces for a church and a market. As the population increased, Fredericksburg found it necessary to expand the municipal boundaries. By 1759, the city had tripled its physical size, opening the door to both new merchants and settlers alike.
Many significant names from both the Colonial and Revolutionary periods called Fredericksburg home to include George Washington, Fielding Lewis, Hugh Mercer, George Weedon, John Paul Jones and James Monroe. Thomas Jefferson, although not a resident, frequented the area on a number of occasions and penned the Virginia Statute for Religious Freedom there.
Although the tract on which Fredericksburg was founded had included a frontier fort that had been established in 1676, its firsthand witnessing of military action in the fight for independence was none. It was the other Fredericksburg, of New York, that witnessed one of the first armed incidents leading up to the American Revolution. In November of 1765, two regiments of British troops arrived from Poughkeepsie and merged with another 200 Redcoats from New York City who were deployed to stop the spread of British land encroachment by local Patriots.
Fredericksburg, Virginia that is, did make a significant contribution in the fight for liberty after Charles Dick teamed up with Fielding Lewis in 1775 to run the Fredericksburg gunnery. They would supply muskets for Colonial troops throughout the Revolution, while also repairing muskets captured from the British. The venture however, turned out to be far more patriotic than prosperous and is said to have taken its toll on their wealth and health. Lewis died in 1781, and Dick, who had been suffering from asthma since at least 1779, died in 1783 at the age of 68.
Unfortunately their spirit of enterprise did not survive either. By 1828, Fredericksburg residents realized that the development of their city was seriously lagging behind the nearby cities of Alexandria (to the north) and Richmond (to the south). As a result, they launched a thirty-year improvement plan that included a water navigation system and road improvements. Fredericksburg also wanted to compete with the nearby town of Falmouth, which had established a stable economy based on the industrial processing of flour. By 1830, both towns collectively boasted a flour-inspection rate of 125,000 barrels a year. However, output dropped dramatically to under 60,000 barrels annually in 1847. This decline hurt the local economy and did nothing to help cover the costs of the city's fledging revitalization plans.
Many of Fredericksburg's long-term projects proved to be poorly planned or executed. By 1858, most had fallen into bankruptcy after uncoordinated and intermittent attempts to complete them were unsuccessful. The news editors of the Semi-Weekly News, Christian Banner and Weekly Advertiser spared no words when they wrote pieces taking the citizens to task for their "lack of energy and enterprise," as well as their penchant for mediocrity. Clearly the town's officials did not anticipate the requirements of their plans, nor did they prepare any contingencies in the event of failures.
Regardless of these difficulties, Fredericksburg righted itself economically and was able to continue on the path of progress by adding shipping to their resume by means of river and railroad. This expansion however would come to a screeching halt as the War Between the States would literally roll over the town like no other in the region. Reconstruction would take decades.
The town, which had been officially incorporated in 1781, finally received its charter as an independent city in 1879. Although it is primarily remembered today for hosting four major battles in the Civil War, Fredericksburg did play a big part in the settlement of the Old Dominion, a small part in it's fight for independence, and is home to such historic sites as Ferry Farm, Kenmore Plantation, Chatham, Mary Ball Washington's House, the Rising Sun Tavern, Hugh Mercer's apothecary shop, James Monroe's Law Office and of course, Charles Dick's house, which you can own for a cool $1.28 million.