THE Announcement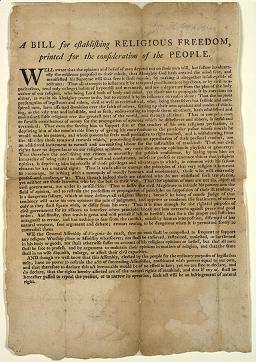 As promised...today it is with great anticipation that I can finally announce some of the details about my next book project. This will be my 7th title, and easily the most ambitious, challenging, and scholarly to date. It will also require the most research and will likely not see shelves until 2012 (at the earliest). I have made several contacts recently which have directed me to some tremendous primary sources and archived reference that has yet to see the light of day. As a result, a rarely discussed aspect of a very famous life can now be shared.
The working title is Faith, Freedom, and Fallacy: Thomas Jefferson and the Virginia Statute of Religious Freedom. This book will present: Thomas Jefferson's time at Fredericksburg in 1777, his meeting there at Weedon's Tavern, in which he agreed to author the Virginia Statute of Religious Freedom, the story surrounding the writing of it, why Jefferson took so much pride in its completion, and how the results are debated and commemorated to this day.
This subject has not been examined definitively in any single study –at least from the angle at which I am pursuing it. In 1998, Cambridge Studies in Religion and American Public Life Series included a book titled The Virginia Statute for Religious Freedom: Its Evolution and Consequences in American History, but as this book looks at the statute from more of a political and sociological perspective, my study will (hopefully) be more intimate and include unpublished material on Jefferson's time here in Fredericksburg.
Yes, there is a tentative publisher, although I have not signed a formal agreement yet. There is some discussion going on over the length of the manuscript. I am shooting for a longer piece than any of my previous books.
I will be working with sources from the Thomas Jefferson Foundation at Monticello and Central Rappahannock Regional Library, as well as some private materials from personal collections. I am waiting until I give my address on Jackson's Valley Campaign at Lexington in June, and the release of our documentary on Richard Kirkland at the end of that month before directing all of my energies into this manuscript.
I have begun the process of acquiring data and can't wait to see where this journey goes. I stated back in 2008 that my next goal was to pen something significant on Thomas Jefferson. Since then I have read four outstanding books on the man all of which I could never top. I just needed to find an original topic that would allow me to present something meaningful and interesting. I now have my subject and my sources. Stay tuned.