May I take your coat sir?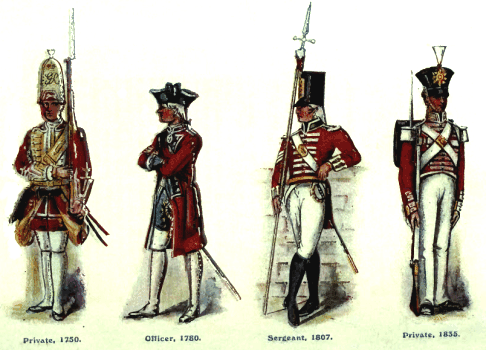 ABOVE: British Army infantry uniforms from 1750 to 1835.
Source: Regimental Nicknames and Traditions of the British Army. (London: Gale & Polden. 1916.)
Today I thought I would share something a little more casual and just for fun… My father has a tremendous collection of records which include a complete set of Bill Cosby's comedy albums. A good part of my childhood memories include scenes of the family, sitting around the old stereo, listening to some of the funniest bits ever captured on vinyl. One of my favorites is a record titled "Bill Cosby is a Very Funny Fellow Right?" (or something like that). There is a routine from that performance in which Cosby pitches the concept of a referee holding a coin toss at the beginning of a war. He uses the American Revolution as the basis, and after making the right call, the Continentals choose to 'kick off,' and add that "We can wear whatever color uniforms we like, and hide behind trees and rocks and stuff, and you British have to wear bright red, and march out in the open in a straight line." That punch-line stuck with me and even to this day, every time I see a depiction of a Redcoat, that joke enters my mind. What makes it so funny is that it's true.
Clearly the Brits had far better tailors than the Continentals, but form over function has never worked on the battlefield. In their quest to look their best, many of the King's finest suffered death by wardrobe. We know this as there have been studies by military historians that cite the affect of heavy and cumbersome uniforms on the army. They have determined that the regulation style uniforms worn by the English troops contributed to needless suffering en route to defeat. There was even an episode of "Battlefield Detectives" on the History Channel in which they concluded that a group of British soldiers who were cut off from any shade or water supplies were beaten by a much smaller force of militia, who pinned them in and simply prevented them from moving (in a siege like state). As the hours passed their enemy fell into a deadly state of heat exhaustion and dehydration. The investigators even went so far as to put two modern-day British Commandos on treadmills, one in the sparse attire worn by the minutemen and the other in a traditional garb worn by English infantry. The Continental fared well, while the Redcoat almost passed out. (Of course the opposite was true in the winter-months and the rebels lightweight gear left much to be desired at places like Valley Forge.)
According to excerpts cited from "History of the Regiments & Uniforms of the British Army" by Maj. R.M. Barnes, "The red coat has evolved from being the British infantryman's ordinary uniform to a garment retained only for ceremonial purposes. Its official adoption dates from February 1645, when the Parliament of England passed the New Model Army ordinance. The new English Army (there was no 'Britain' until the union with Scotland in 1707) was formed of 22,000 men, divided into 12 foot regiments of 1200 men each, 11 horse regiments of 600 men each, one dragoon regiment of 1000 men, and the artillery, consisting of 50 guns. In the United States, "Redcoat" is associated with British soldiers who fought against the colonists during the American Revolution. It does not appear to have been a contemporary expression - accounts of the time usually refer to "Regulars" or "the King's men". Abusive nicknames included "bloody backs" (in a reference to both the colour of their coats and the use of flogging as a means of punishment for military offences) and "lobsters" (most notably in Boston around the time of the Boston Massacre). It is not until the 1880s that the term "redcoat" as a common vernacular expression for the British soldier appears in literary sources, such as Kipling's poem "Tommy", indicating some degree of popular usage in Britain itself. However an isolated earlier use of this term relating to the American War of Independence appears in "The Riflemen's Song at Bennington", an old folk song that supposedly [citation needed] goes back to the 1770s."
Someone once said that it is "better to look good than to feel good." Another remarked that you should "always dress for success." I wonder if the former was an officer in the English Army.
PS. This weekend I'll be spending Saturday with Mort Kunstler at his Fredericksburg print signing and Sunday I'll be giving my speech on Mary Ball Washington at the VAFB Women's Convention. Hopefully I'll have photos and a video to share next week.