Upcoming talk: VFB's Women's Conference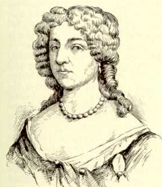 Yesterday I humbly accepted an invitation to speak at the Virginia Farm Bureau Women's Conference next month. I will be addressing 350+ ladies from all over the Old Dominion following their Sunday breakfast at the Fredericksburg Hospitality House. In addition to the invite, I was granted free license to select whatever subject matter I wanted. As my new focus is entirely on the Colonial-period, I felt it appropriate to offer something fitting for both the occasion and audience. I will be presenting the life of Mary Ball Washington, a local woman of historical note and the mother to our first president. I am titling my talk Mary Ball Washington, Mother of the Father of our Country.
I have already begun my research by contacting the George Washington Foundation. I do hope that some of the conference attendees will have an opportunity to visit Ferry Farm and the Mary Washington House. My plan is to present Mrs. Washington as the complex and virtuous woman that she is said to have been, while also acknowledging her rocky relationship with her son. As usual I will share my photos and transcripts following the engagement on March 21. I am also hoping that this study will become part of a future article for Patriots of the American Revolution.
On a slightly unrelated note, today I received a very complimentary email from William G. Hyland, Jr., a noted attorney and author of In Defense of Thomas Jefferson, The Sally Hemings Sex Scandal. Mr. Hyland was pleased with my article on race and remembrance at Monticello (see below) and offered to send me a copy of his controversial book for review. I must say that I am eagerly looking forward to reading the counter-argument to my favorite book of last year, the Pulitzer Prize winning The Hemingses of Monticello: An American Family by Annette Gordon-Reed.
As I mature in my own research efforts, I am striving to read as many conflicting studies as possible when examining any topic. It seems that controversy and re-examination are the lifeblood of history today. I will be sure to post my thoughts on Mr. Hyland's book. I just started reading Flight from Monticello: Thomas Jefferson at War by Michael Kranish for my first review in PAR. It seems that Mr. Jefferson is fast eclipsing Mr. Jackson in my private library. After reading 8 "TJ" books, I am still awed and perplexed by the man.

Posted by ny5/pinstripepress at 1:27 PM EST
Updated: Saturday, 20 February 2010 12:27 PM EST
Permalink
|
Share This Post