And so we begin...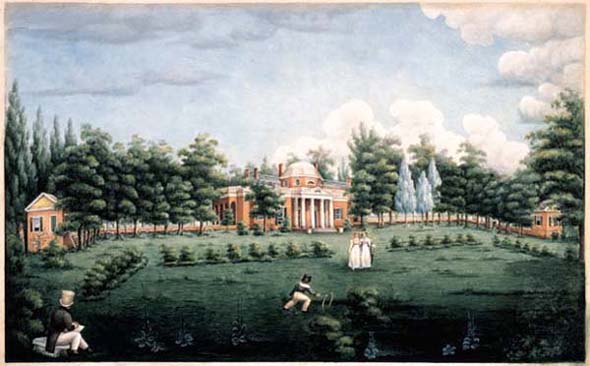 Above: View of the West Front of Monticello, c. 1827 by Jane Pitford Braddick Peticolas. (Monticello/Thomas Jefferson Memorial Foundation, Inc.)
Welcome to the inaugural post of BLOG or DIE. This article appeared in the January/February 2010 issue of Patriots of the American Revolution and was complimented by a photo essay shot on the grounds at Monticello. I have received permission from the editors at PAR to repost the text portion of my piece here with hopes that you will check out their excellent publication. I have already signed on to pen future articles and our good friend Eric Wittenberg has been named PAR's first book review editor. This level of length, detail, and insight will be the new standard that you can come to expect from this blog. My next study will present Colonel George Washington's and the VA Militia's experiences in western Pennsylvania.
Race and Remembrance at Thomas Jefferson's Monticello
by Michael Aubrecht (PAR, Jan/Feb 2010, Vol. 3 Issue 1)
HISTORY AND HYPOCRISY
Thomas Jefferson is remembered as perhaps the most exceptional charter member of the Founding Fathers. His contributions to the birth of our nation are second-to-none and his words have inspired generations of Americans to covet their freedom and liberty. At the same time, the author of the Declaration of Independence is criticized as the most hypocritical affiliate of that revolutionary generation. The largest point of contention in this Virginia planter's legacy is his lifelong practice of slavery and how it benefited him socially, politically, and personally. It is an emerging blemish on an otherwise brilliant existence.
Jefferson experienced the so-called "peculiar institution" of bondage directly, as Monticello's slave population was one of the largest in Virginia. His community of human property resided just over the hill from the main house, on what was referred to as "Mulberry Row." Often Master Jefferson would walk along the path tracing the 150-plus slave workforce community which included family dwellings, wood and ironwork shops, a smokehouse, a dairy, and a wash house and stable. "Mulberry Row" was the center of plantation activity from the 1770s to Jefferson's death in 1826. Five log cabin dwellings were also built near the site for additional household servants who did not fit in the basement-level dependency wings of the estate. Today, visitors can trace Jefferson's footsteps on the grounds of Monticello, although the outbuildings are no longer standing on Mulberry Row. The dependency wings are open to the public and the adjoining kitchen and sleeping quarters appear much the same as they did in Jefferson's time. Despite the initial appearance of a bustling plantation community, one cannot forget that it was populated by slaves. And regardless of the quality of life that Jefferson's servants appear to have shared over other Africans held in bondage, they were still held as property.
Like their proprietor, Monticello slaves maintained an arduous schedule. Most servants worked from dawn to dusk, six days of the week. Only on Sundays and holidays could they pursue their own affairs. These included prayer meetings and worship, spiritual singing, and night excursions, when wild honey would be gathered for their personal consumption. The supplementing of rations was also practiced as farm hands grew acres of vegetables, fished the river, and trapped game. Unlike many masters, Jefferson actually paid his slaves a monetary share for extra vegetables, chickens, and fish for the main house, as well as for special tasks performed outside their normal working hours. He also encouraged some of his enslaved artisans by offering them a percentage of what they produced in their shops. An extremely diversified man himself, Jefferson was most likely impressed by the skills that were cultivated by his slaves. In this respect, his treatment of them imitates a mutual respect for hard working individuals who cared about contributing to Monticello's well-being. Jefferson's very good friend James Madison also appreciated the vocations exhibited on Mulberry Row and purchased all of the nails used to enlarge his neighboring estate of Montpelier from Jefferson's nail foundry.
The conflict that existed between Jefferson, the slaveholder and Jefferson, the proponent of liberty is still being debated and examined to this very day. According to the Thomas Jefferson Foundation, who is tasked with preserving and presenting the storied legacy of its namesake, Jefferson's words and deeds are contradictory on the issue of slavery. Although he drafted the words "all men are created equal," and worked to limit the stranglehold of slavery on the new country, he personally found no political or economic remedies for the problem, and trusted that future generations would find a solution. "But as it is," Jefferson wrote, "we have the wolf by the ear, and we can neither hold