About the Author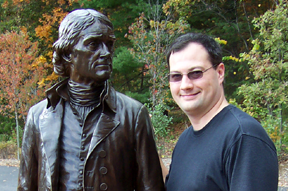 As an award-winning and best-selling author, Michael Aubrecht has dedicated his studies to the histories of Major League Baseball, the Civil War and the Founding Fathers. He has written multiple books, as well as hundreds of essays for magazines, newspapers and journals including Baseball-Almanac, Civil War Historian, Patriots of the American Revolution, Pop Flies, Drumhead Magazine, The Badge and The Free Lance-Star. Michael is also the personal copywriter for the classic American painter Mort Kunstler. By day Michael works for the U.S. Marshals Service in the Investigative Operations Division.
Michael is a filmmaker and co-wrote and produced the dramatic documentary The Angel of Marye's Heights (scene sample here). He previously hosted "The Naked Historian", a casual YouTube video series introducing viewers to little-known historical sites in the Fredericksburg area. A battlefield tour guide, frequent speaker and radio guest, Michael is the former chairman of the National Civil War Life Foundation and the founder of All-Access Battlefield Tours and The Jefferson Project.
Michael is also an experienced musician and has performed at such events as the Mellon Jazz Festival and National Band Competition in Nashville, TN. Long before he became a writer, Michael played drums in the marching band, symphonic band, choir pit, stage band and percussion ensemble. Today he plays a variety of classic American music styles, favoring swing and big band music. Michael also co-developed a unique percussion theory program for children ages 5-10 known as "FUNdamentals" with his co-author, noted recording and touring drummer Rich Redmond, best known for his work with the Jason Aldean band.
Books by Michael Aubrecht:
Buy Michael's books and DVDs on Amazon.
FUNdamentals of Drumming for Kids (w/ Rich Redmond, Publisher TBD)
Baseball's Could Have Beens: Major League Mishaps, Misfortunes, and Mistakes (w/ Eric Wittenberg, Kent State University Press, 2014)
You Stink! Major League Baseball's Terrible Teams and Pathetic Players (w/ Eric Wittenberg, Kent State University Press, 2012)
The Civil War in Spotsylvania: Campfires at the Crossroads (The History Press, 2009)
Historic Churches of Fredericksburg: Houses of the Holy (The History Press 2008)
The Southern Cross: A Civil War Devotional (Patriot Press, 2008)
Onward Christian Soldier: The Spiritual Journey of Stonewall (Publish America, 2005)
Christian Cavalier: The Spiritual Legacy of J.E.B. Stuart (Publish America, 2005)
Faith and Freedom in Fredericksburg: Jefferson and the VA Statute of Religious Freedom (manuscript IP)
Some past presentations (click for transcripts or video):

Backyard History: Forgotten Sites of Lee's Hill (Lee's Hill '55 Club)
Community Lecture Series: Fredericksburg's Churches (SPC Church)
Richard R. Kirkland "The Angel of Marye's Heights" (F'burg Civil War Roundtable)
Lunchtime Lecture: The Great Revival During the Civil War (Manassas Museum)
Historical Research and Writing (Maury Commons Heritage Center)
Race and Remembrance at F'burg's Baptist Churches (Manassas Museum)
Historical Research and Writing Tips for All Genres (Pittsburgh Writer's Project)
Jackson's Journey: Stonewall's 1862 Valley Campaign (CWHC Muster Banquet)
The Mother of the Father of Our County, Mary Washington (VAFB Conference)
Gallant Boys in Blue: The 123rd PA Volunteer Infantry (Carnegie Library Hall)
The Espy Post and the Importance of Civil War Memory (Carnegie Library Hall)
The Great Revival St. George's Episcopal Church (St. George's Civil War Series)
Battle of Spotsylvania: In Their Words (Richmond Civil War Roundtable)