Exclusive Interview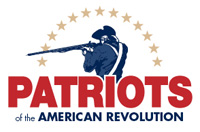 A few years ago I had the pleasure of sharing space at a book signing event with some very generous folks from Ertel Publishing. As a result, I was commissioned to write a couple features for one of their most popular publications, Civil War Historian magazine. Over the next year I penned a lengthy article on baseball during the Civil War that received a lot of acclaim, as well as an intentionally controversial piece in which I ranked the top ten Confederate generals. One of the relationships that blossomed from this commission was a friendship with the editor Benjamin Smith. Ironically, just as my studies have moved further back in our nation's history, so has Ben's publishing efforts. Both of us share new interests in the lives and legacies of our Founding Fathers and the revolution that they inspired.
Although I will still continue to support my existing Civil War-era efforts, new projects will likely involve the colonial period. My recent work with The Thomas Jefferson Project for instance has been well-received. A couple weeks ago I accepted an invitation to contribute a feature-length study to Ben's newest pub-affiliation Patriots of the American Revolution. As a result, I have enthusiastically decided to submit a more detailed and formal study of my look at how slavery is being interpreted at the new Monticello Visitors Center. I also asked Ben if he would be interested in doing a short interview to introduce my readers to what has quickly become one of the most original and informative historical magazines out there. He graciously accepted and our conversation is as follows:
[NOTE: Patriots of the American Revolution is a bi-monthly, full-color, 60-page publication. It is owned by Three Patriots, LLC, and published by Ertel Publishing. Tim Jacobs is its Editor and previous owner; Ben the Associate Editor]

Q: For how long has Patriots of the American Revolution been published? How and why did it begin?

A: The magazine's editor, Tim Jacobs, started publishing the magazine in 2008. The concept for the publication began out of Tim's desire to honor his ancestor, Ezekiel Jacobs, who served in the in the Connecticut Militia during the American Revolution. After learning and researching much of Ezekiel's life and time in the war, Tim wrote an article about him--but couldn't find a publication to submit the piece. And that was the genesis of Patriots of the American Revolution. Tim wanted to create a venue for people in which they could honor their Patriot ancestors. Today, the magazine still features profiles about people's Patriot ancestors, but it has grown to include interesting articles about the leaders and battles of the Revolution, as well as research on early American culture.

Q: Explain this growth a little more. For example, how did you get involved?

A: This is where the story about the magazine gets interesting. I've been working for Ertel Publishing--a magazine publisher located in Yellow Springs, Ohio—since early 2007. We design and publish several magazines, most of which are somewhat historical in nature. Some of the magazines are owned by Ertel Publishing; some of the magazines are owned by people who hire us to do the design work and assist with editing and marketing. In June of 2008, I came across the magazine's original website, and thought it might be the perfect sort of magazine for us to design. I called Tim and we hit it off; he and I have a lot in common. So Ertel Publishing started to design Patriots of the American Revolution, and provided Tim with some very basic marketing/PR assistance. The magazine started to grow, but not at the rate that Tim needed it grow by; it's expensive publishing your own magazine. So in the summer of 2009, three of us here at Ertel Publishing—myself; our General Manager, Vicki McClellan; and our President, Patrick Ertel—formed a company called Three Patriots, LLC and bought the magazine from Tim. However, we kept Tim on as the Editor, and hired Ertel Publishing to continue designing the magazine. That's when I became Associate Editor.

Q: Has the look or direction of the magazine changed since Three Patriots, LLC purchased it?

A: It has, and quite a bit. The page number has grown from 34 pages to 60 pages, and the magazine is now a bi-monthly publication; it used to be a quarterly. Also, we have added new departments, such as "Culture, Art, & Conflict" and "Allies & Enemies."

Q: What are some of the other departments that readers can find in each issue?

A: One of our most popular departments is "Notable Bloodlines," which is written by Tim Jacobs. He traces the family history of a celebrity—such as Ernest Hemingway, or Muhammad Ali—back to the American Revolution, and illuminates the lives and achievements of the celebrity's Patriot ancestors. We also have a department called "The American Revolution Today," which focuses on current preservation efforts and historic sites pertaining to the Revolution. Personally, my favorite department is "The American Revolution Month-by-Month."

Q: What kind of featured articles do you publish?

A: All kinds. Just to give you an idea, I'll list some of the topics that have appeared in the past two issues: the Battle of Saratoga; the myth of the Jersey Devil; Molly Pitcher; Washington Irving; the Massacre of Cherry Valley; the Turtle submarine; Thomas Paine; and British newspaper coverage of the Battle of Trenton.

Q: What issue are you currently working on?

A: The January/February 2010 issue, which will actually print and ship in the middle of this December.

Q: Can you give readers a sneak peek into what they can expect to see in the upcoming issue?

A: Sure! We have a wonderful article about Betty Zane, a 16-year-old girl who helped Patriots win a battle against British and American Indian soldiers in present-day West Virginia. We also have an article on the so-called Forage War, which occurred in New Jersey during the winter of 1777. Finally, our department called "Culture, Art, & Conflict" focuses on how Loyalists were treated by Patriots during the war. For more information, you'll just have to check out our website on a regular basis: www.patriotsar.com.

Q: How much is a subscription?

A: The cost is $29.95 for six issues, per year.

Q: Who would you recommend a subscription to?

A: To anyone who likes to read about early American history. We actually cover events from the French and Indian War, through the Revolution, to the War of 1812; all three of those events are connected. Also, I would recommend a subscription to anyone who enjoys the simple art of reading a magazine. I mean, I love blogs. I write a blog for Ertel Publishing, and Tim writes a blog for the magazine. Blogs are incredibly useful and vital. But at the end of a long day, I like to sit at home, put up my feet, and unwind with a magazine. Patriots of the American Revolution is the kind of magazine I would like to decompress with. It's interesting, educational, well-written, and uses a lot of fine art; it looks nice. Its easy on the eyes. Of course, I am biased!

For more information about Patriots of the American Revolution, please visit www.patriotsar.com.