I can hardly wait...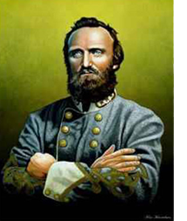 This week I humbly accepted an invitation to speak at a banquet dinner for the Civil War Home Chatroom's 2010 Muster. The CWHC is a wonderful organization made up of extremely knowledgeable and enthusiastic Civil War buffs from around the country. Each year, members of this group gather together for an extended weekend at one of the country's historic CW sites. For 10+ years they have visited hallowed grounds in both the western and eastern territories. Next year's event is taking place in June and will encompass sites along the Shenandoah Valley.
Now these "musters" are not your ordinary tours by any means. This is a first class organization that spends a great deal of time coordinating a one-of-a-kind experience. From custom-designed commemorative shirts and hats, to special tours, member awards and a book exchange, the CWHC does it right. They also tap historians and experts with local networks that enable them to access sites that the general public cannot.
On the final night of each muster they hold a special dinner and I have been given the honor and privilege of giving that evening's presentation. This year's focus will be New Market, Port Republic, Cross Keys and Lexington and I will be speaking about one of my favorite subjects, "Stonewall" Jackson. The title of my piece is "Jackson's Journey: Stonewall in the Valley" and it will present a look at a brilliant military campaign that forged the legacy of a lion.
As many parts of the weekend's tours, especially those in Lexington, will cover Jackson's family, friends, and personal life, I will be focusing on how the success of the Valley Campaign helped to re-define Jackson as a military giant. I plan to recap each engagement and offer a look at how Jackson's actions were received on both sides. It's quite different from talks I've done on 'Stonewall" in the past (most have focused on his spiritual life), but I love the challenge of examining an old friend in a new way.
Jackson's Valley Campaign has been heralded as one of the greatest military maneuvers in American history and rightfully so. Over the course of this mission Jackson's 17,000 men marched over 600 miles in 48 days and successfully engaged three Union armies (52,000 men), preventing them from reinforcing the Federal offensive against Richmond. The campaign not only secured a series of crucial victories for the Confederacy, it also solidified Jackson's reputation and a swift and savvy commander.
My talk will examine Jackson as a leader and I am really looking forward to including some great maps I've come upon to reinforce his troop's remarkable achievement. Quotes from firsthand accounts and recollections will make up the conclusion of the piece. Of course I will have my usual PowerPoint visuals and I am bringing some of my own books to do a signing after the festivities are over. (I am also hoping to join the group for a prior tour and have solicited the assistance of my good friend, author and historian Richard Williams.)
Events like these, and the passionate groups that hold them, are a major reason I started writing about CW history in the first place. There is nothing better than sharing our collective knowledge to gain a better understanding and appreciation for our nation's story.