A bright shining star emerges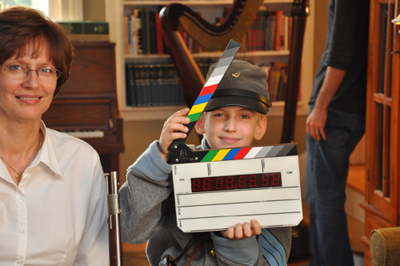 Special thanks to proud mom Kathleen Warren for sending me this article. I am so very proud of young Richard and I am looking forward to his performance above all the rest of us "boring old farts."
Salem boy portrays soldier in Civil War documentary (The Roanoke Times)
Richard Warren, a 10-year-old from Salem, recently turned actor for a part in a Civil War documentary. Warren portrayed the young Richard Kirkland, a South Carolina soldier who earned the nickname "The Angel of Marye's Heights" when he volunteered to cross enemy lines to take water to wounded Union soldiers during the fighting around Fredericksburg. A Georgia-based filmmaker recently came to Salem to shoot the scenes involving Richard.
Here's what Kathleen tells us:
About a year and a half ago, my son, Richard had a chance to do a living history presentation for a school project. He enjoys studying Civil War history (both sides) and decided on Richard Kirkland, someone that is not very well known in some circles. Remarkably, he did a great job for a 9 year old...so much so that Michael Aubrecht, a Fredericksburg author and historian put the video I did on his blog. He has since had the opportunity to give his portrayal for two 4th of July celebrations, a New Year's party, in front of the Stonewall Jackson Shrine and on the Sunken Road in Fredericksburg. (You can see this on youtube if you type in Richard Kirkland.)
Later, a Savannah filmmaker decided to do a documentary on Kirkland. Filmmaker Clint Ross contacted Aubrect, the Fredericksburg author, and through that connection, a film crew recently came to Salem to shoot the scenes involving Richard Warren as the 10-year-old Kirkland.
Here's what the filmmaker has to say about the project:
Basically, close to a year ago I contacted Civil War Author Michael Aubrecht after I had seen a piece he had written regarding Richard Kirkland "The Angel of Marye's Heights". I spoke with him regarding the idea of shooting a short screenplay about the event that launched Kirkland to national acclaim. I thought the story was captivating and left my mind and heart troubled by the complexity of the situation. "What would I have done?" was my question. It made me question war and the nature of men. In the words of Megan Hicks from her audio book What Was Civil About That War... "I do not understand the nobility of men... I must say, I am truly mystified." Michael and I hit it off from the beginning, we just naturally were propelled to tell this story. I went to the Film and Television's dean at my school, Chris Auer, and asked him if I could film this story for my Thesis. BTW, my school is Savannah College of Art & Design - www.scad.edu. Along with him and the overseer of my Thesis, Michael Nolin, I was granted permission to first do a documentary about Kirkland.
It was here that Michael became my co-producer and we adventured along to tell this story. We decided to showcase the event that occured at Fredericksburg and the memory of Kirkland. We looked into the ways Kirkland has been commemorated since th event in 1862. I phone interviewed Civil War artist, Mort Kunstler, award-winning audio book writer Megan Hicks, National Park Service Ranger Donald Phanz, historian and author of "The Long Role" Joseph Matheson, Civil War Historian John Cummings, and Civil War Author Michael Aubrecht. All these people brought a unique element to the Richard Kirkland story. I am including original music composed by Canadian Bluegrass musician Will White who wrote a song about Kirkland called Fredericksburg 1862. I have also included several dramatic scenes to capture Kirkland at his childhood, the night he contemplated leaping the wall, and his actual running across the battlefield. All in all, I am hoping this will turn out to be a quality film that is worthy of the story it is telling.
Those involved in the film were myself - Clint Ross (Director/Co-Producer), Michael Aubrecht (Co-Producer), Zach Graber (Cinematographer), Nazar Loun (1st AC or Camera Operator), and Clayton de Wet (Sound Mixer). We filmed in Camden, SC - Kirkland's hometown - Fredericksburg, VA - Where the battle took place and where Kirkland's act occured, and Salem, Va - Scene from Kirkland's childhood, which includes Richard Warren age 10, your son.
I am expecting to have this film completed by Dec.12th - the night before the Battle of Fredericksburg.