GREAT guide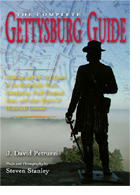 Like many folks bitten by the "Civil War Bug," I was first introduced to the War Between the States on a family vacation to Gettysburg. I fondly recalled that life-altering weekend in a piece I wrote titled "Birth of a Buff" and have since then waxed the poetic on subsequent returns to Adams County in my adult years. As both a historian and longtime resident of Fredericksburg surrounded by four major battlefields, I am clearly spoiled when it comes to Hallowed Grounds. However, none of them have managed to touch me in the way that Gettysburg's battlefield does. Simply put, I love giving tours here in Virginia, but I really love taking them in Pennsylvania.
What is it about Gettysburg that makes it so special? Maybe it was because I first walked its wheat fields and rocky hills at the impressionable age of 7, or maybe it's because the town hasn't changed all that much since I first traveled there in 1978. Perhaps it is the legacy of the battle itself, truly an epic engagement on so many levels that favored both the North and South at different times and ultimately changed the entire course of the war. Maybe it's the feeling one has when they go there. Who is not touched by the tragedy that took place there in July of 1863 and who can ignore the beauty of this magnificent place that has been preserved for all generations? This is why millions of people travel to Gettysburg each and every year.
Many of these "stompers" have their own way of exploring Civil War battlefields. Some use the officially sanctioned audio-driving tours, while others bring books, photographs and sketches to use as reference. I have always used a combination and I also enjoy walking the trails with the licensed guides and National Park Service folks whose insights are often far beyond that of any pre-packaged materials. Unfortunately there was never a "one-size-fits-all guide," a concise and dynamic tool that appealed to the die-hard enthusiast and the casual observer. With all of these choices nothing was developed that would satisfy the inquisitive expert searching for that hard-to-find spot, as well as the family of four looking for a nice way to spend an afternoon.
That is until now.
Fortunately for people in both camps, a new book is finally available that will fulfill both of their desires. Even better, it was developed by two of the best in the business. Noted historian and author J. David Petruzzi has teamed up with Civil War cartographer Steven Stanley to produce the "THE COMPLETE GETTYSBURG GUIDE: Walking and Driving Tours of the Battlefield, Town, Cemeteries, Field Hospital Sites, and other Topics of Historical Interest." This book is already my pick for the Best of 2009.
Tremendously detailed, up-to-date, and beautifully designed, this newly released Savas-Beatie title includes walking and driving tours of the battlefield, town, cemeteries, hospital sites, monuments and obscure places that are often missed by the mainstream tours. A gifted writer, Petruzzi's narrative tells the entire story of the battle and Stanley's tasteful use of photography and maps complement it perfectly. Not only does this guide outline a great tour of the grounds, it also tells the reader how they fit into the battle and why they matter. By using this guide you won't only have a better appreciation for the National Military Park at Gettysburg, you'll walk away with a better understanding of what transpired there.
I firmly believe that it won't be long before "THE COMPLETE GETTYSBURG GUIDE" will become a must-have extension of the entire Gettysburg Tour experience. It's as enjoyable to look at as the Cyclorama, as informative as the NPS Tour, and as easy to understand as the Electric Map. I cannot wait to take my copy back to Adams County and walk the grounds in a completely new and exciting way. For those of you who have never been to Gettysburg, now it the time to go as this new book will make your inaugural visit even more enjoyable, and for those of us who are regulars, this book is a great excuse to go back and share in a brand new experience.
For more information and to order your copy, visit the book's official website.