A LONG post after a LONG week…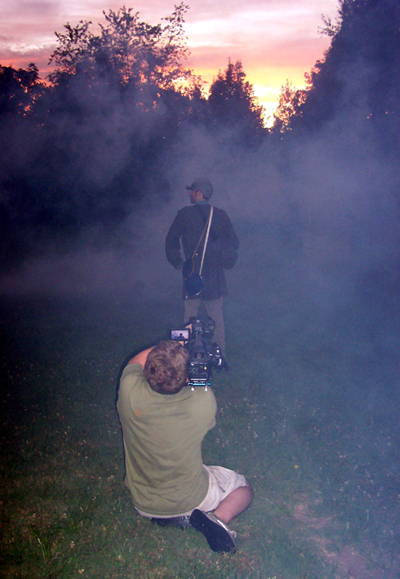 Our documentary film project on the life and legacy of Sgt. Richard Kirkland made the front page of the Region section in the paper (see FLS article below this post), so I guess I'd better share my take on all this as promised… First, I will say that I will not - and cannot - comment on specific details about this film's script or content. Obviously the director does not want anyone to release information until he is ready to do so himself. I will speak here ONLY to my own experiences as a co-producer/interviewee/consultant over the last week. The public will see the finished product when it is officially debuted in December on the anniversary of the Battle of Fredericksburg. I will say that when the crew departed today to return to their studio in GA, I believe they left with over 10 hours of footage. The next two months will be filled with post-production and editing, followed by a private screening and subsequent release.
I will begin by saying that this has been without a doubt one of (if not THE) most exhausting, promising, enjoyable and potentially hi-profile projects I have ever been involved with. Everyone with ties to this movie from the crew and cast of experts, to the people who assisted in front of or behind the camera was amazing. The director Clint Ross and I share a great passion for the story and his vision in bringing it to the big screen was evident in every scene and at every location. Zach Graber the cinematographer is immensely talented and the way he set the frame and manipulated the entire surrounding environment from light and shadow, to color and clarity was a site to behold (see pic of my segment below). Often the set-ups on location would take over an hour, but the results were astonishing. From grand estates and battlefields, to old abandoned houses and museum galleries, every-single segment looked like a painting. The b-roll shots and still photo effects that they plan to intermix as well will compliment the historian interviews and dramatic recreations beautifully.
Clint and Zach hired a great crew and Naz (camera) and Clayton (sound) definitely brought their a-game too. I was amazed at how multi-talented they all were and how many roles they filled. The hours on a movie shoot are ridiculous. Timing is everything and we put some miles on this week. We usually did 10-12 hours and one day we worked from 8:30 am to 2:30 am while shooting in 3 different counties. In addition to the documentary, they also shot a commercial for the National Civil War Life Foundation with yours truly as the talking head. For the Kirkland piece we interviewed Megan Hicks, Don Pfanz, John Cummings, (me) and they also shot interviews in Camden SC and Roanoke VA. Over the week, filming took place at the Fredericksburg Battlefield (Sunken Road, Marye's Heights, Kirkland Monument, Prospect Hill, Richard's House, Innis House), Spotsylvania Battlefield (Bloody Angle-area), Chatham Estate, Civil War Life Soldier's Museum and the Marie Johnson property (near Chancellorsville).
I had a blast in my role, but I must say that movie making is THE most exhausting endeavor that I have ever had the privilege of participating in. I loved doing the interviews, coordinating locations, even appearing on camera myself, BUT the biggest thrill was getting to help run the fog machine, play with lights, toss smoke grenades, run a sound recorder (while the soundman was an extra) and helping to move and manipulate a 'jib' which is a cool camera-crane. I also enjoyed going back to the hotel and looking at the day's raw footage on the cutting-edge Mac systems they brought. This type of historical consultant/producer gig may be the beginning of something new for me, but regardless, this film will be something very special and I am very blessed to be a part of it. I'll keep you up to date as things evolve and I'll be sure to post the NCWLF commercial spot here when it is completed.
Article from The Free Lance-Star follows: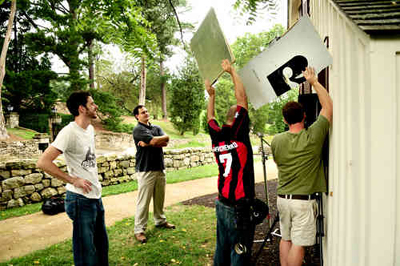 WAR 'ANGEL' TO AMAZE AGAIN
Filmmakers shoot Fredericksburg scenes for documentary on South Carolinian who won his enemies' gratitude for risky act of charity
(Date published: 8/1/2009. By Clint Schemmer. Photo by Mike Morones.)
Richard Rowland Kirkland is arguably the most famous enlisted man of the Civil War.
His compassionate deeds on the Fredericksburg battlefield earned him acclaim from friend and foe alike, and a nickname--"the Angel of Marye's Heights"--that has endured down through the decades.
Yet Kirkland's story hasn't been the stuff of film, our most compelling medium. Now, a South Carolina filmmaker and a Fredericksburg historian aim to change that.
"Of all the facets of the Civil War, this is one that people can connect with," director Clint Ross said during shooting this week at Marye's Heights. "Everyone understands Kirkland's principles. His act of mercy itself, you can't dispute that."
Ross has spent this week in the area with a three-man crew--cinematographer Zach Graber, first assistant cameraman Naza Loun and set designer Clayton de Wet--shooting scenes for their documentary on Kirkland's life. All four are graduate students at the Savannah School of Art and Design.
Spotsylvania County resident Michael Aubrecht, author of several books on Civil War history, has arranged interviews, done research and guided Ross and his team to evocative sites for shooting.
What the South Carolina sergeant did--leaping the Confederate defenses, under fire, to carry water to wounded and dying Union soldiers--profoundly impresses both men.
Ross, who wrote a screenplay for a different, earlier treatment of Kirkland's story, said he wants to give the film's battle scenes a nitty-gritty, you-are-there feeling reminiscent of "Saving Private Ryan" or HBO's "Band of Brothers."
"That a man would risk his life to aid his enemy, the very men that he and his comrades had been busy killing only hours before, is just amazing," Aubrecht said. "But it's true."
Kirkland, 19, was a combat veteran of First Manassas, Savage Station, Maryland Heights and Antietam. At Fredericksburg on Dec. 13, 1862, he and his comrades in the 2nd South Carolina Regiment assembled behind the stone wall below Marye's Heights and helped slaughter the Union attackers.
But that freezing night and the next morning, the cries of Union wounded left on the killing field haunted many who heard them, including Kirkland.
On the 14th, he got permission to cross the wall, under fire, and brought water and warming blankets to the Yankees. Union riflemen ceased firing as he moved from soldier to soldier for nearly two hours.
Kirkland, who went on to fight at Chancellorsville and Gettysburg, was killed in the Battle of Chickamauga on Sept. 20, 1863.
Today, the bronze-and-granite memorial to him here is the largest monument on any of the area battlefields. To many visitors, it may be as recognizable a feature of Fredericksburg as the Sunken Road or stone wall.
Sculpted by Felix de Weldon, the artist who crafted the Iwo Jima Memorial in Washington, the monument was unveiled in 1965 during the Civil War Centennial.
"Kirkland is almost a brand for Fredericksburg. This monument is essentially the identifying, universal symbol of the battlefield," Aubrecht said, standing near de Weldon's statue.
Scenes were shot at Marye's Heights, the Sunken Road and the Innis House on the Fredericksburg battlefield, Prospect Hill and the National Civil War Life Museum in Spotsylvania County, and Chatham in Stafford County.
Since the National Park Service generally bars live-fire re-enactments at its sites, Spotsylvania landowner Marie Johnson made her property available for filming of a dramatic re-creation of Kirkland's actions at Fredericksburg, Aubrecht said.
"Poetry has been written about Kirkland. He was mentioned in many soldiers' memoirs. He's been the subject of many artists, including Mort Künstler," he said. "I don't know of any other enlisted man who was so celebrated."
Ross aims to complete the documentary by Nov. 30 and release it on Dec. 12 for the anniversary of the Battle of Fredericksburg. He intends to enter it in film festivals, and it will be screened here.
The documentary may also be shown to visitors at the National Civil War Life Museum in Spotsylvania, a private institution that's supporting the venture.
SIDEBAR:
Among those being interviewed for Clint Ross' film are Donald Pfanz, staff historian at Fredericksburg & Spotsylvania National Military Park; award-winning Fredericksburg storyteller Megan Hicks; Spotsylvania historian John Cummings; Spotsylvania author Michael Aubrecht; artist Mort Künstler; retired National Park Service historian Mac Wyckoff; South Carolina historian Joe Matheson; and a Roanoke boy, 10-year-old Richard Warren, who will portray the young Kirkland back on his family's farm near Camden, SC.