Today feels like a different kind of day for me.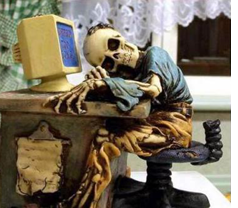 It is the first time in 5 years that I am not working on a book deadline. 2009 will see the release of my 5th and 6th titles as yesterday I finished off a draft manuscript and expect to receive a proofed version back of another in the coming weeks. It takes a tremendous amount of work and time to research and write history books (or any book for that matter) and I have sacrificed countless hours with my family and friends in order to pursue this passion of mine. At 37-years old, I have been very blessed and I am absolutely certain that my successes as a writer are not at all due to my own efforts, but from the grace I receive from above, and the support I have around me down here. I'm proud of the books that I've published to date and feel that I am getting better as both a historian and author. (The first book I released back in 2005 had 80+ pages. This last one I co-wrote will have over 400.)
My plate isn't completely emptied as I still have the occasional article, tour, lecture, and media piece, but for the most part I am finally freed up from the major tasks that demand the majority of my attention. It feels… relaxing and I haven't felt that way in a very-very long time. I can actually go home at night and not have to work after the kids go to bed. Spending 12 hours at a keyboard is ridiculous. It's summertime. I have a beautiful pool, and now I can finally use it without looking at the clock and worrying about my schedule. Getting back to a 9-5 lifestyle is something I absolutely crave – and require.
Please don't misunderstand, I'm not done writing books, but I am taking a much-needed break as in no new publishing contracts for the rest of this year. (Honey, you can bookmark this post and use it against me at any time.) I am also never-ever going to work on two books at the same time. That's nuts. Thank God one of them is a chronicle-collection, which required more quoted transcripts than original narrative.
As of today, my attentions are going to be better spent. I'm taking the family to Disney World on vacation. I'm having lunch today with a dear friend I haven't hung out with in years. I even had a celebratory cocktail for the first time in 3 years and it tasted g-o-o-d. Sometimes we can get so caught up in our professional pursuits that we neglect the personal ones that really matter. I've been extremely lucky as I have an understanding wife and co-workers who give me the space to do my thing, but I have not been practicing work moderation in any way. It has cost me many relationships and tarnished my sense of priorities. Thank God I have my church to keep me grounded. So now seems like the perfect time for me to get a life, regain some friends, pay attention to my wife, and walk away from the keyboard when it's quitting time.
Of course I'll continue to blog, I'm not crazy or anything...